Lundi
"Lundi" is a weekly French magazine published in Canada. Most of the articles one page, with a full page photo. Translations are done through Google's Language Tools and my feeble attempts to make sense of the results. Anyone willing to help with translations may contact me at the email address on the front page. The original text is available if you're willing to help.
---
The Sweet Reunion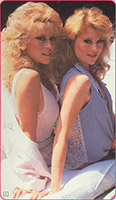 They were married six months apart
By Denis Monette
No, the Landers sisters are not twins, although many think so. Audrey is eighteen months older than Judy although we always thought she was the younger of the two. No, they do not live together while leading separate careers.
What happens, however, is that the two petite sisters love to get together from time to time and chat about everything that happens to them for good or bad in life. They have already been singing together on the major scenes of Las Vegas and have even recorded a few duets together, but for the last few years, and this is Audrey who tells me this, they have chosen to pursue successful careers individually in the area of television and cinema.
Audrey, who plays the role of "Afton" in "Dallas," is perhaps the best known of the two now, but Judy is not much less known with her ​​roles in the films obtained "Skatetown" and "The Black Marble" to name just two. Audrey now has to her credit "King Without a Crown" which recounts the life of Johann Strauss.
At six month intervals, the two single women have become happily married. Judy married Baltimore Orioles baseball player Tom Niedenfuer, while the beautiful Audrey is married to a New York businessman named Donald Berkowitz.
Judy loves dogs and Audrey prefers cats. They both have beautiful homes, but it is in Audrey's house in the Hollywood Hills that these photos have been taken. For the first time, they now want to do a film together in "Ghost Writer," a police drama alongside Joey Travolta. Rich and famous, let me tell you they are very pretty, the Landers sisters... even though I have a slight preference for Audrey!
1) The small blue, this is Audrey. The other, Judy.
2) Judy who is an expert in cooking, gives her sister a taste of her dishes.
3) A superb room overlooking pool and glorious sunshine.
4) A dinner at the BBQ, this is Judy who is dressed in blue.
5) The two inseparable beside the swimming pool.