Dallas beauty's shape-up tips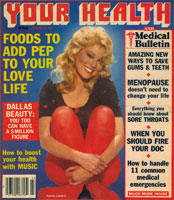 How Audrey Keeps her million dollar figure.
DAZZLING Audrey Landers, of the hit show Dallas, does plenty of fast footwork to keep her petite shape in star form.
"I'm an avid runner," explains the porcelain-skin blonde as she outlined her program in an exclu­sive Your Health inter­view.
"I started when I moved to California six years ago. I really feel best doing two miles at a good pace and alternating it with fast walking," says Audrey, who runs ab­out four times a week.
The five-foot-three beauty who plays con­niving Afton Cooper on the hit series says: "It helped my body tone, my breathing and it makes me feel good.
"I also like variety. I'm not good at doing the same exact exercise every day," she explains, though she does make the effort to do something every day.
Tapes
"I work out to the Jane Fonda and Richard Simmons tapes with my sister, Judy. I put them on the big-screen TV and pretend I'm going to class.
"I also love horseback rid­ing, tennis and swimming. Swimming makes your body look longer because of the stretching. However, I'm not very good at it because all my free time is spent rehearsing, writing songs, singing or working up dance routines.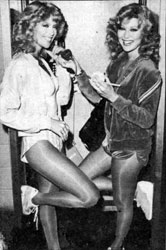 "Judy and I do a lot of dancing in our act," she says about her nightclub routine with her look-alike sister.
"It's a good workout," Audrey enthuses. "We make up the routines ourselves then call on a choreographer to jazz them up. We're on stage singing and dancing for an hour without a break. Judy and I do a lot of fast, rock.tn' roll numbers. We don't take it easy - that's for sure!
"It takes a lot of energy. I sweat off some weight during the show," says Audrey.
Although she weighs 100 pounds, the polished performer admits, "I've always wished I was one of those people who has trouble gain­ing weight. If I gain two pounds, it shows."
However, Audrey has found that sticking to a vegetarian diet is a big boost when it comes to controlling calories. Although Audrey first became a vegetarian through belief, she modified her diet after two years to in­clude a small portion of fish every once in a while.
Besides shunning red meat, Audrey also steers clear of salt. "For me, any amount of salt is harmful. I never, ever put salt on any­thing," she stresses. "That's how I developed a mostly vegetarian diet. I feel I retain a lot of water."
Instead, the knockout beauty concentrates on a diet centered around fresh veget­ables and fruits, whole grains and dairy products.
"I started eating that way because I tried to cut salt from my diet. Everything has salt - even if you don't use a salt shaker - especially the food you get in restaurants. "
Fruit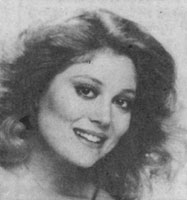 Audrey starts her day with fresh fruit and adds a bran muffin when she isn't wor­ried about adding an extra ounce to her perfect proportions.
"Occasionally, if I feel it's going to be a rough week or I'm under a lot of stress, I'll have an egg for protein. I do drink coffee, but I limit myself. I try not to drink it when I'm performing.
"It's like a drug. I get all wired up for the moment and experience a sharp let down." Instead, Audrey
drinks plenty of water, herbal teas and fresh-squeezed fruit juices.
Lunch is either a salad or fresh fruit and vegetables. The Dallas dynamo explains that she cooks her vegetables very little so the heat doesn't leach out their nutrients. "I either steam them or quickly saute them, Japanese style like the natural flavor of foods."
Dinner is more of the same plus some fish for body building protein. "I don't really avoid pasta, breads or sweets." the luscious star adds, "I eat them in moderation.