Young and Famous: Landers sisters
To TV's hottest sisters, sibling rivalry exists only is psychology textbook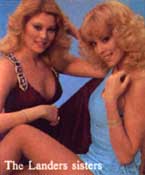 "Lord help the sister who comes between me and my man," harmonized Rosemary Clooney and Vera-Ellen at the end of their sister act in 1954's White Christmas. Ironically, blonde Audrey Landers and her sister, Judy, the sexiest show-business siblings around, are being considered for a biopic about Rosemary and her real-life sister, Betty. For the Landers ladies, sibling rivalry is just a term in a psychology textbook.
"There are no jealousies if one gets the part and the other doesn't, because we love and help each other," says Audrey. Last season she landed one of TV's juiciest roles as singer Afton Cooper, J. R.'s lusty new plaything on Dallas. "We have a simple theory," she continues. "It's OK as long as one of us gets the part and nobody else gets it."
At 23, Audrey is an eight-year veteran of the business, guided by her mother into hundreds of commercials and two major soap opera roles before her high school graduation. Late-bloomer Judy, 21, played the ugly duckling role for a while. In her late teens, she blossomed, and from January through August, when the show was shelved, she filled the bill as a lady trucker named Stacks on B. J. and the Bear. Before that she'd played a couple of dingbat blondes, including a silly secretary on Vega$.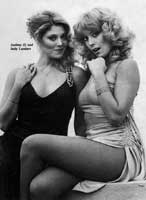 Although their personalities are as different as day and night--Audrey is authoritative and confident; Judy, once so shy her relatives dubbed her Stoneface, has a deceptive aura of dizzy naivete--the Landers sisters have occasionally been offered the same part. "We both read for a Pilot called Coed Fever," recalls Judy, "and the casting directors made us the two top choices for the part." As it turned out, neither was available for the role.
"Goober's Girls was another pilot that didn't work out," Audrey adds. "I went to pick up Judy after the audition, and the director decided I was better for the part. I wound up with the job instead of Judy, who bowed out for something else." The sisters frequently double date--each has a "special guy"--but marriage is out of the question for a while because each dreams of starring in her own series. Says Judy, "If your character is well liked on a successful show, it doesn't matter to the public whether you're in a supporting role or not. The audience picks."
Notes Audrey, whose steamy presence is increasing body temperatures on Dallas, "J. R. didn't start out as the leading role. Larry Hagman brought so much charisma to the show that the writing was changed to please the audience. The viewers made him the star."
And if the Landers sisters have their way, limelight will turn into starlight before you can say "All in the family."
© 1981 Us Magazine