TV's Sexy Siblings
They're TV's hottest new family act. While Judy trucks on BJ, sister Audrey tramps it up with J.R. But their hearts (bless 'em) belong to Mama.
By Pat Sellers
Audrey Landers, 22, Dallas' sexy Afton Cooper, and Judy Landers, 20, the aptly named "Stacks" of BJ and the Bear, are unquestionably the hottest sister act in town. Stoking the fire beneath them is yet another beautiful blonde: Ruth Landers, whose canny management of her daughters' careers should make her a candidate for "Stage mother of the year."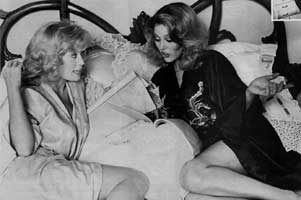 But Ruth disarmingly wards off that tag. "I can't say I'm not living a part of my life through them." she's quick to concede. "I'm thrilled to death. They're doing what I would have done if things had been a little different."
Ruth was married by the time she was 16, had her first child at 17, another at 19, and soon was a divorced single parent. She uncomplainingly traded in her own acting career ("I really wasn't very good") to give her preschool daughters a stable home life. Today, she's co-owner and operator of a NY printing company, a music publishing firm and a talent management agency, Landslide, that lists 25 clients.
That last business was founded three and a half years ago on the strength of her success with her daughters' careers. "Audrey was,a beautiful child," says Ruth. "She always wanted to be an actress--or a doctor. I figured I'd let her get the acting, out of her system, early, rather than have her decide later on not to go to college. So. in that sense, I was a stage mother."
With Ruth's guidance, Audrey landed hundreds of TV commercials and continuing roles on two soaps' before she was out of high school. "My mother helped me believe in myself," she says. "She made me feel I could do anything in the world."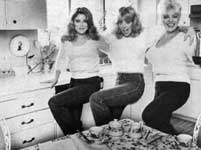 But younger daughter Judy wasn't so easily convinced. "Judy was a painfully shy child," says her mother. "I used to call her my little Khrushchev. She was two years old before she got hair. She was not a pretty child."
Judy concurs. "It would be sugarcoating to even say I was cute. A little girl with big eyes and high cheekbones and sunken cheeks is strange-looking."
But sister Audrey defends the ugly duckling. "To me, she was the cutest thing on earth."
Ruth and Judy used to have private beauty conferences in the bathroom. "She'd look at me with her big, sad eyes and say 'Mom, am I ever gonna be pretty?' I'd say, 'You just wait. You're going to be prettier than all of them. You're going to be prettier than Audrey.' And I'd walk outside and say, 'Please, God, make it come true. Don't make me a liar.'
"And she's beautiful now. It started when she was about thirteen. All of a sudden she got this gorgeous body and all the features came together."
But even as the beautiful swan, Judy lived in her sister's shadow. "Audrey is brilliant," says Ruth. "Judy is very bright, but not as bright as Audrey. It's not a secret or something Judy feels bad about. But it was hard on her because Audrey excelled in everything. Anything you would give Audrey to do, she'd have to become the best, which is one of the reasons I told her: 'Gymnastics, you'll never touch.'"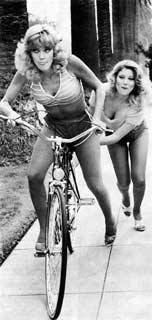 Judy had discovered gymnastics at 13. "I had a talent for it even when I was a little girl," she says. "I was always doing acrobatics and flipping myself around. Then I got into it at school and I really loved it. I wanted to be a champion. I guess because Audrey had her thing --acting-- that she was good at, I sort of wanted my thing, too."
Judy went on to win the state gymnastics championship, but after she suffered a back injury her mother suggested she try modeling. Judy agreed, saying: "As long as I don't have to talk." But by the time Audrey had graduated from college and was ready to make a career move to LA, Judy was willing to take on Hollywood, too.
In California, Ruth brought Judy to Audrey's agent. He took one look at her, called Universal to tell them he had the perfect girl for a part they'd had trouble casting, sent her over to audition, and later that week completed the deal for her to play "Wanda the Bod" in What Really Happened to the Class of '65.
With Audrey making a pilot, Ruth spent the next six weeks finding an apartment with two very similar bedrooms. She came close. Audrey got the slightly bigger room with a walk-in closet and bathroom with bath. ("There are advantages to being the older sister.") Her decor is sweetly feminine, with original art on the walls and a framed butterfly picture over her bed bearing the motto: "Happiness is a butterfly which when pursued is always just beyond your grasp. But if you sit quietly, it will land upon you." Ruth sent that to her when she was depressed over not finding the types of roles she wanted. "It helped me get my priorities straight. I realized I couldn't force it. I'd done all my homework; I had all the background and I knew I was good. It was just a matter of time before that special thing would come along.
"And then my agent got the call for Dallas. . . "
Judy's bedroom is smaller, but with an adjoining terrace. She borrows her sister's tub for one of her favorite pastimes: bubblebaths. Judy collects angora sweaters, bikinis, and satin pillows. But don't let any of the above lead to confusing the real girl with some of the roles she's played-Wanda, Boom-Boom, Cookie, Goldie, Bambi, and Bunny, not to mention dum-dum Angie of Vega$. Cautions Ruth: "Judy is dumb as a fox. She's got the whole world fooled."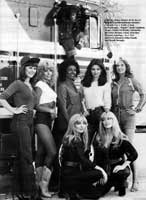 Her room is decorated Jean Harlow style, all satin and lace and "pink everywhere you look. It's my favorite color. My dad came and saw it and said, 'This room looks like a bordello.'"
The "dad" she refers to is Barry Le Bental, Ruth's husband of four and a half years, and her partner in the printing company for 14 years. She held off remarrying, she says, partly to avoid interference in raising her daughters. "But Barry was always part of their lives. He was the father image. He did many of the things their father should have done but didn't."
They live in the house she built for herself and the girls when they were 9 and 11. It's a huge, redwood-and-glass structure complete with indoor swimming pool and lots of decks for entertaining, on wooded acreage in NY's Rockland County. "It's really a dynamite house. The three of us just sat down and listed all the things we wanted and then looked for a builder who would put up with all the nonsense. It was meant as a children's house, in the sense that I always wanted to encourage my kids to bring their friends home."
She sometimes got more than she'd bargained for. "Audrey would find a ninety-year-old man on a bus and he'd tell her his troubles and she'd bring him home for dinner. She'd bring little old ladies home for dinner. And disturbed children. There was this ten-year-old kid in her class who'd been thrown out of school. Hyperkinetic, I tell you...
"One collected stray people, the other collected stray animals. Judy loves animals so much she became a total vegetarian four years ago. She can't stand the thought of eating them. And she'll adopt any stray she finds. At one point I had five dogs here. One time she brought home baby squirrels whose mother got killed. I made an incubator out of an electric blanket, got some formula, and nursed them.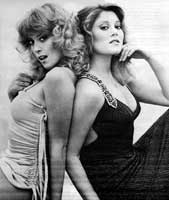 "Her boyfriend [Frank Capra III] told me he was getting her a cat. I told him no cat. Every animal they've ever gotten I've ended up taking care of. I've got a cat and a German shepherd she found. She's not allowed to have dogs in her apartment and no one else wanted it, so I took that stupid dog back on the plane. He threw up all over. I called my husband and said, 'Meet me with a station wagon, I've got a surprise for you.' I was trying to pretend it was a present."
Ruth admits that her usually understanding husband gets a little jealous and sometimes feels like an outsider because of her close relationship with the girls. She speaks to them on the phone "ten or twenty times a day." Whenever their schedules allow, they fly home to New York. And one week out of every month, Ruth packs up her bichon frise (also a onetime Judy dog) and goes out to stay with her daughters in Beverly Hills.
"They're always on a diet right before I come because if I see one ounce of fat anywhere, I have a screaming fit. I watch everything they put in their mouths and I always have. I guess I'm their harshest critic all the way around. I feel that someone has to tell them the truth. I sometimes find it very difficult for me, but I would be doing them no good at all if I told them how terrific they are when they're not."
Audrey concurs. "Our mother is brutally honest with us about everything. She sees the shows three hours earlier in New York so she warns us if they cut our favorite scene or whatever."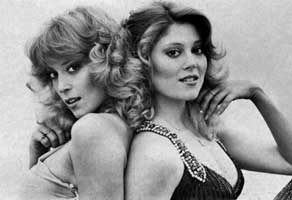 She watches their bankbooks just as closely, investing their money for them. All their earnings go into a corporation from which they've always drawn equal salaries, no matter who was working and who wasn't.
"Because of the was I've been brought up, I've never had to be greedy orselfish or grabby," Judy says. "People took care of each other in my family"
"Our mother did a great job bringing us up," Audrey adds. "In all honesty, I don't think anyone else on this earth could do a better job with her kids. I just hope I do a tenth as well with mine."
"My maternal instinct in the strongest one I have," Ruth admits. "I still wake up whenever Judy has a bad dream and I call her. She doesn't understand how I know. And one when Audrey was skiing and Hunter Mountain, I knew for no reason at all that she needed me. I got in my car and was halfway there before the call came to my house that she was hurt. By the time they brought her down off the slopes, I was there."
© 1981 Us Magazine