TV's Super Sisters: The Landers sisters
by Brandon LeSeur
What more could a young actress aspire to-given the Dallas ratings-than to be J.R.'s mistress? That honor has gone to 23-year-old bombshell Audrey Landers. And, the wicked arch-villain, being the wicked arch-villain he is, Audrey is making the most of it. Her biggest fan and booster is baby (20) sister Judy another stunner in the looks department, who plays the enviable role of Stacks on NBC'S, popular BJ and the Bear.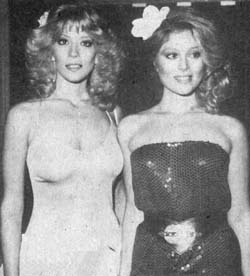 But Audrey says, "we've always given. each other support. We came up in 'what might be described as your typical 'one, big, happy family.'" She noted their relationship with their mother/manager Ruth Landers, a former actress "reads like a fairy tale. And Judy is my very best friend in the world."
The sisters are not your run of the mill "dumb" TV blondes. They have direction and seem to know where they're going. Judy has been acting only about three years. Back in her hometown of Nyack, New York, she was a stand-out gymnast and eventually became New York State champion. She loves animals and at one point wanted to be a vet. We wonder if this had anything to do with her BJ CB handle, "the blue tigress"?
Audrey, on the other hand, is no show biz newcomer. She's been coming up the ranks since age four. Audrey appeared as a singer on Merv 12 years ago she even studied composition and music theory at Juilliard. So don't be at all surprised if J.R. ends up, buying his little Afton Cooper her own Texas-style nightclub so she can display her singing talents.
She left singing behind to become an actress and appeared for eight years on soaps The Secret Storm and Somerset. "And," laughs Audrey, "I still get fan mail, which is absolutely amazing since I haven't been on a soap in four years!"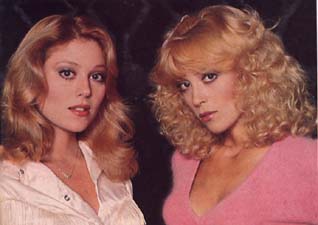 In what spare time she finds, Audrey spends time writing music in her rustic house tucked away in the Sierra Mountains not too far from Hollywood. She was a bit apprehensive about changing her wholesome image to play J.R.'s mistress.
"It took a little concentration," said Audrey, "especially that first scene in bed with Larry Hagman. There we were, and, only three feet away was the entire, crew. But Larry made it easy with his great sense of humor. It was an intense scene, but I took one look at him and burst out laughing. There was nothing funny. It was just all that tension."
Neither Audrey or Judy are too worried about typecasting. After all, as Audrey points out, "J.R. didn't start out as the star of Dallas." Judy says, "I love playing the silly blonde, but I don't ever want my character to become one-dimensional." After a few discussions with the producer of BJ and the Bear it might be noted that Stacks is no longer just another pretty face.
The natural next step for these acting sisters-if they keep grabbing a larger and larger slice of the audience's attention-is meaty movie roles, then, hopefully, either together or individually, their own series. Not bad for an ex-cheerleader and an ex-gymnast.
© 1981 Sterling's magazines