One Superfit Sensation
By Isobel Seldin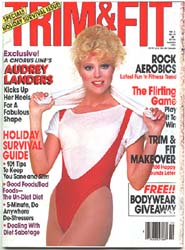 How much can being really fit advance an acting career? Plenty, if you're Audrey Landers. Dancing lessons since childhood and a three-part, never-missed exercise routine enabled her to make the transition from soft-spoken Afton on "Dallas" last year to high-steppin' Val in A Chorus Line this year with relative ease. In fact, Audrey doesn't believe she'd have gotten the part of Val if she hadn't been in such good condition.
The blonde beauty, best-known until now as J.R.'s, then Cliff's love interest on "Dallas," begins every day with a series of stretching exercises and repeats them each night before bed.
"I feel it's very important to stretch every, day, whether or not you have time to do aerobics. Stretching keeps the blood circulating and maintains good posture. It's as important as diet. Posture helps you breathe properly. It also makes you look so much better.
"Remember those 'before and after' ads? A major difference in how the people looked was their posture. Stretching makes me aware of my posture every morning."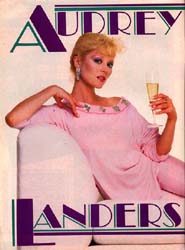 She does stand straight, constantly, which gives the illusion that she's much taller than her 5'3".
Audrey starts by carefully rotating her neck. "I have a lot of tension in that area, so if I don't exercise properly, I can get a crick by turning suddenly. I turn my head as far to the right as I can, then as far to the left, but only what feels comfortable. Nothing is ever forced.
"Then I do shoulder rolls. Once my shoulders are loosened, I scrunch my shoulders very tight, as though I'm trying to push them up to the ceiling. I relax by pushing them towards the floor.
"Arm rolls are next: big circles down to smaller ones, again to release tension though this also tightens the upper arm muscles.
"Then, with bended knees, tummy tucked, I twist to the right four times, to the left four times. I never push too hard, there are no jerky movements.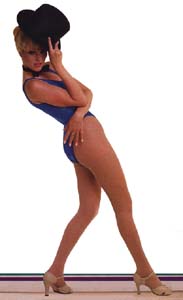 "Then, I sit on the floor, knees turned out, toes and heels touching each other, and bounce gently. Next I do what I call cheating splits: instead of putting the leg into a total split, I extend my left leg. The right one is bent at a right angle. I stretch out and touch my chest to my knee, my nose to my knee, and then to the floor. I do that with each leg, to a count of 20.
"Sitting with my back straight, tummy tucked, legs straight out, I stretch toward my toes and flex my feet. Finally I stand up, touch my hands to the floor. If it's hard to reach at first, bend the knees a little bit. Remember, never push it."
Part two of Audrey's daily regimen is a 25-minute fast-walk, about two miles, often with Bandit, her blue-eyed Siberian husky. Part three is more flexible; when time permits, Audrey swims laps in her pool and does aerobics two or three times a week. "When I'm doing my nightclub act, it's like a 90-minute aerobic workout onstage."
Audrey was a dancer even before she became a part of A Chorus Line. She's always loved singing and dancing; in fact, since she was a youngster growing up in Philadelphia.

"When I was very young, my mother was a model. I went with her on assignments from the time I was two. I thought it was all very glamorous. I did my first commercial-in a bubble bath -with my mother, when I was three. Then she left modelling and went into the printing business and I got involved in school plays. I always loved acting.
"My first big break was as a singer. I'd been writing songs forever. When I was 12, 1 wrote a song, did a demo tape and sent it to 'The Merv Griffin Show.' They called me in and I sang on the show. It was very exciting. I was so naive, I wasn't even nervous.
"My mom was very excited about it. There was an agent in the audience, handling someone else who was on the show. She asked if I had representation. We'd been knocking on doors for a year and couldn't get an agent. But that night I got one."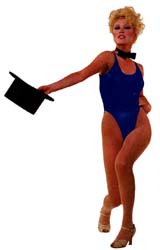 At the first audition the new agent arranged for Audrey, she got the part. She was 13 years old, then, and she became a regular on the "Secret Storm" soap. She followed that with three and a half years on another soap, "Somerset."
Audrey's mother Ruth, who'd always managed her career, believed the next logical career step was Hollywood. A few years before, Audrey's sister, Judy, who's two years younger, decided she too wanted a show business career. Earlier on, she'd been a New York State gymnast champion with no interest in show business, until she injured her back and looked with new interest at what Audrey was doing for a living.
Ruth was all for Judy's career plans. First Judy did a pilot in New York, then they all went out to Hollywood. Audrey speaks of Judy with pride, "She has a very special quality and people recognize it."
There is little rivalry between the two women. "We love each other and want the best for each other," Audrey explains. "We were raised to always look out for the other person, rather than yourself. If you're always looking out for her, you know somebody's looking out for you. There's no need to be selfish or greedy. You know that you're taken care of."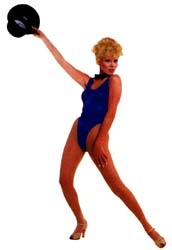 In Hollywood came more opportunities. Audrey did a couple of short lived series, a lot of episodic TV appearances, a few movies, and then came a long stint in "Dallas." The plum role of Val in A Chorus Line, however, will make her truly bankable. She knows it, so does everyone else in the movie industry.
Audrey says she's never faced the beautiful-but-dumb blonde cliche in her career, but admits having faced discrimination in the music business. Television stars are not taken as seriously as musicians by musicians she notes, but she hopes A Chorus Line will temper that prejudice. She believes playing Val will not only bring her stardom but also more credibility as a singer and an actress.
A Chorus Line has already been a turning point in her life.
"Until I got the part, I considered myself first an actress, then a singer, finally a dancer, but dancing became my number one priority overnight. It was a challenge since I joined the cast four weeks after they'd started rehearsals. I had to join a troupe of dancers who were life-trained as dancers and they had the advantage of rehearsing all those weeks. I crammed every minute of the day with dance. I worked muscles I didn't know I had.

"I do some dancing in my nightclub act, but nothing as extensive as this. I'd never tap danced, so I had to learn everything from scratch. When everybody else took a ten-minute break every hour, I'd go to another room and practice. There wasn't time for a private coach.
"I would say that three nights out of five, I'd leave the theatre, go home and cry from sheer exhaustion. But, it was an exciting five months until the filming was complete."
Fortunately, her story line on "Dallas" was winding down so she was able to accept this plum role. On "Dallas," Afton was getting fed up with Cliff's actions, so she just disappeared. She's never been written out of the story line officially, but that's okay with Audrey: it was time to move on to one of the most-coveted roles of the year.
But Audrey's never been one to sit still and wait for success. After A Chorus Line, she made Hostage Dallas, a film for an independent firm. She and Judy are also at work on a dance-exercise video in which she sings, too. And in what little spare time she has left, she sees a Los Angeles neurosurgeon and enjoys California's natural lifestyle.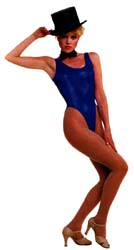 Seated in the cheerfully-flowered breakfast room of the luxurious Beverly Hills hillside home she co-owns with her mother and sister, Audrey passes a platter of fresh melons and ripe cheeses and indulges in what she terms her "only vice," real coffee-not decaf-which she has with milk.

"I believe in a good breakfast. I have one every day, because I never know what my day holds. I may have time for lunch, I may not. Most often, it's not."
Her good breakfast always starts with a variety of fresh fruits, bran toast with natural margarine (from a health food store, it's made without preservatives), yogurt and coffee. When she does eat lunch, it's fresh vegetables, a wedge of cheese and an apple. Dinner is generally fish or chicken with salad and vegetables, whether she's out or at home.
"I think dieting is most important and I like to eat natural foods. I'm such a fanatic about health, I won't even take aspirin. If I have a headache, I drink a lot of water, relax and it goes away. That's the way my sister and I were brought up."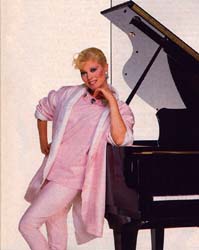 Audrey's beauty regimen is simple and natural, too. "Even though my face is round, I do have very high cheekbones. I accentuate them by putting on earth-tone shading just under the bones. I use a lighter blusher on the cheekbones themselves. So many people put on blush too high and it gets close to the eyes. This makes the face look chubbier. As a child I was self-conscious about my round face. I kept waiting for the baby fat to disappear and it never did. As I got older, I discovered that having a round face is better: it helps you maintain a youthful look."

Audrey doesn't want to look too young though, so she shuns the sun. "I never get sun on my face, because I freckle and then I look 12 years old," she giggles like one. "I wear a hat most of the time, especially driving in my convertible with the top down, which I love to do. When I'm outdoors even to go shopping or to an appointment in the summer, especially, I put a sun block on my face every morning. I do tan my body when I have a chance, but not my face."
Audrey turns to her refrigerator, too, for some homegrown aids. She conditions her hair with mayonnaise, for example, wraps her head in a towel and puts a plastic bag on top. She lets body heat do the rest for 20 minutes of deep conditioning.
"Rinse it very, very thoroughly before you shampoo," she cautions.
She also likes to mix a mashed ripe avocado as a moisturizing mask. "That'll keep strangers from ringing your doorbell a second time," she laughs. And she uses lemon juice as a pore tightener and astringent.

© 1985 GCR Publishing