Jealousy Made Me a Dallas Star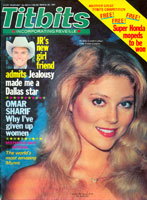 Stunning Audrey Landers is the toast of television right now as J.R.'s latest lover in Dallas.
But behind her new­found fame, there lies a past career of disappoint­ments and failures ... and also a startling admission.
For the 23-year-old bachelor girl reveals that a certain amount of jealousy drove her on to land the red-hot role of Aston Cooper, the blonde bombshell who has suddenly made Southfork sizzle.
For years, Audrey has had to live in the shadow of her young actress sister Judy Landers, And while Judy shot to fame as heart-throb Robert Urich's doe-eyed secretary in the Vegas TV series, Audrey was in a number of shows that all flopped.
Now - after beating off fierce competition from dozens of other gorgeous girls for the prize Dallas part-Audrey has finally become a star in her own right.
Fame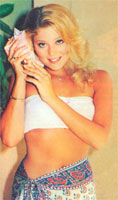 Relaxing in her luxurious Hollywood home, the elder Miss Landers told me candidly what had spurred her on to fame.
"Being jealous is not such a bad thing," said Audrey. "It makes you all the more determined to succeed."
And although she has always been very close to her sister, Audrey admits: "It was pretty galling to see Judy landing great parts and getting the accolades – especially as she's younger than me – while my acting career hadn't taken off."
But Dallas changed all that and now Audrey can count her blessings.
"When the producers rang to tell me the part of Aston was mine, it was the greatest thing that had ever happened to me," she says with a beaming smile.
"Thankfully, I've now got a TV role where I can make my mark, At last I can come out from behind my sister. I no longer need to envy her."
Audrey says she's determined to make Aston Cooper a lady to remember! And she has this promise for Dallas fans:
"I am going to make sure that Aston is a no-holds­barred sort of person, She will be one of the hottest women on television … and I will go as far as the producers will let me".
Audrey is no stranger to love scenes on the screen… "But not one has been as risque as those I've seen on Dallas. They seem to get away with more than most."
In one episode of B.J.and The Bear, Audrey appeared before the cameras wearing nothing but a smile and a towel.
Hopes
But the girl who notched up appearances in Police Woman, Happy Days and Marcus Welby, admits that it's the disappointment of the shows which failed that really used to get to her.
"I've had my fair share of setbacks," she says,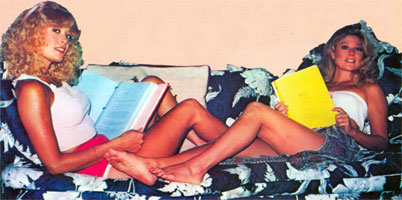 In all, Audrey was chosen to take part in four pilot shows for the big America networks–but not one of them was a success.
"You get your hopes up, but the shows don't seem to make any impact on the ratings and they're scrapped," says Audrey, "It's heartbreaking."
"I thought that one of the shows–starring opposite ex football star Joe Namath–was a dream come true. But there again, it failed to make the necessary impact on the ratings."
Audrey, however, is more than just a gorgeous face and a rising TV star. She's also a talented country and western singer.
She has released a number of records and spends a lot of her time writing and producing country material.
"I will always be a singer-maybe even more than an actress," she says, "It's a chance to be creative, writing and singing.
"When you write a song it's a great emotional outlet, a way of releasing all the feelings that are pent up inside you.
"Working on a show like Dallas, you really need that."