Judy is Burt's Latest Flame
A CHILDHOOD dream came true for sexy blonde actress Judy Landers when Burt Reynolds called her for a date.
The couple hit it off so well they have been seeing each other regularly for more than two months.
Judy coyly denies speculation of a hot romance, but admits: "I think he's wonderful. I've always had a crush on him and he's everything I ever expected.
"He's a terrific person. He's warm and knows so much. I can ask him anything and he never talks down to me."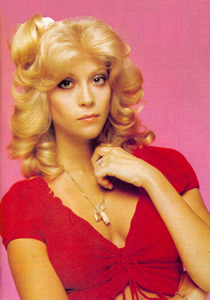 The 20-year-old actress, who played Stacks in the final season of BJ And The Bear before it was cancelled this year, has admired Reynolds since she was 10.
Last Valentine's Day she was photographed with a drawing of a large red heart which read: 'To Burt Reynolds, will you be my Valentine? Love and kisses, Judy. '
But Judy, who was so shy at school that her classmates nicknamed her "stoneface", never mailed the 45-year- old actor his card.
The relationship started when Reynolds called Judy's agent and said he wanted to meet her. He left his phone number and Judy called him back.
''I'd never met him before he telephoned me," Judy says. "But I've liked him for years. I've collected hundreds of photos of him and I even have a poster of him in my room.
"We talked and talked and then he asked me to a dinner party at his house.
"It was a small party, just some friends and me. I felt very shy at the beginning but I was thrilled to be there with him."
Judy said: "Burt's as good-looking offscreen as he is on-screen and what's even nicer is he's just as beautiful on the inside as he is on the outside. I love to listen. to him, to all the things he knows and he's done.
"He is the perfect gentleman. He truly has a very warm heart and he has a way of looking at you that makes you feel all woman."
Reynolds has had a lengthy list of girl friends since his divorce from former Laugh In girl Judy Carne in 1965.
But Judy insists: "We're friends. You can't tell where it might go."
Her 22-year-old sister, Audrey, plays one of JR Ewing's favorite mistresses on Dallas. The girls' mother, Ruth Landers, is delighted that one of her daughters is dating Reynolds.
"He's avery, very nice man," she says. "But Judy doesn't want to talk about him too much. She wants to keep it very private."
Reynolds' hectic filming schedule may keep him from developing any serious romances for some time.
Cannonball Run was a big moneyspinner during the American summer and Paternity has just been released.
Now he is busily editing Sharkey's Machine and rehearsing with Dolly Parton for the start of their movie The Best Little Whorehouse In Texas. He then makes Best Friends with Goldie Hawn, Bogart Slept Here and The Bourne Identity, which is adapted from the bestseller by Robert Ludlum.
Judy is hoping for another series following the demise of BJ And The Bear and will co-star next January with her sister in a movie thriller called Sweethearts.