Sensational Sisters
Dallas Star Audrey Landers keeps close to her family as she climbs to the top
Audrey Landers shares a lot with Afton Cooper, the character she plays in Dallas both are beautiful, both are singers and songwriters, and both have an inner drive to get ahead.
But where Afton falls into the usual "Dallas" mould of the conniving woman who sleeps around, Audrey Landers takes the more conservative approach.
She has worked her way up. At 23, she Is a 10-year TV veteran, having begun her career on daytime soaps. While doing that, she was going to college, then studying music for a year.
Audrey was reared in Nyack, New York, but has flourished in Hollywood, doing guest appearances on most major shows before finding her voluptuous niche in Dallas.
Her family plays a big role in her life. In fact, Audrey's mother, Ruth, is her manager. Her flat-mate is look-alike sister Judy, also an actress on the way up (she was a regular on BJ And The Bear and Vegas).
Together Audrey and Judy are fast becoming the most famous Hollywood sisters since Lillian and Dorothy Gish.
Here, Audrey talks quite candidly with TV WEEK about her personal life, her work, and how she copes with her TV image.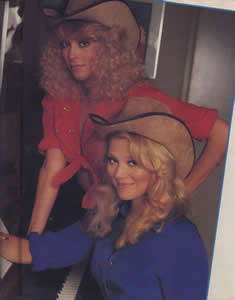 Do men approach you at random in Hollywood when you 're on your own?
Well, generally, I don't talk to strangers. I don't talk to people who just come up. With a man, I'll get into a car and drive off if he comes on strong. I've never met a new friend who hasn't been introduced to me by someone I trusted. And I'm good at social, public-type meeting people, but not on a personal basis. Men do come up and sometimes ask: "Hey, haven't I seen you somewhere before," with a LOOK in their eyes.
And what do you say?
I say: "Yeah, Dallas. Goodbye."
So what kind of man turns you off?
Someone loud, rude, inconsiderate — unless they're like JR. Larry Hagman is the only man who could play him like that — I find him lovable. If it was anyone else, I'd hate the character.
What is it like making love to JR?
I'm sure Af ton enjoys the power part of it. A powerful older man is always a challenge.
Since you live with your sister, you 're probably not a swinger, right?
It's nice to live with someone you can trust. WE help each other with scripts, wardrobe, advice People always want to imagine it's competitive, or there are disadvantages, but we choose to live together and there is no rivalry. I think this is because we are both so close to our mum. She live~ in New York but comes out for one week every month, and we both get plenty of attention — and support — from her.
Have you and Judy acted together?
We did a TV pilot, but it didn't sell. It did lead her to "BJ", though, and me to Dallas. Everyone wants photo layouts of the two of us, side by side, in matching sexy outfits — that gets tiresome. Soon we will be doing a feature film called Sweethearts, a psychological thriller about sisters in which Jill St John plays our mother. It's signed for, and everything.
What's it like working on Dallas?
Hectic — but I love it. I wouldn't trade it. Usually we're in at 5.30 or 6.00 am, and I get home around 7.00 or 8.00 at night. At weekends I do a lot of promotional and publicity things in various towns.
Do people treat you like Afton?
Yes. People always give me good advice, like, "You're too good for that bleep-bleep JR."
Was it difficult, working and going to school at the same time?
Yes. We'd shoot from 6 am till late afternoon. I went to Columbia University, which is way uptown; the studio was in Brooklyn. I'd often miss classes. Finally, to relax, I started writing — songs, poetry. But I didn't resort to drugs.
Now that you have a steady acting job, what about your music?
I lead a hectic life, to fit it all in. My music is blossoming now, too; I did my first personal appearance in Louisiana in 1981, and it's boomed since. I did the pro rodeo circuit, singing with a band for 30 minutes. I love that.
There are obvious parallels between you and Afton — she is driven, wanting to get ahead but...
...but she does go about it in a way I would not. We're both determined, but she IS crazier.
What about the songs Afton sings?
They're my songs. In fact, Judy and I just wrote our first song together.
What are your future plans as a singer?
I'd sent tapes to Nashville, but now that I'm on Dallas, they come to me. Usually it's a gimmick they have on their minds, because I'm on that top-rated show. But my singing is no gimmick, and I want a singing career, just as I want an acting career. But it takes time to develop.
Do you have any bad habits?
Real self-discipline, if it's a problem.
You know that TV has a habit of chewing up and spitting out performers. Will that happen to you?
It couldn't. I'll tell you why — I'm not just determined; I'm also a very good actress. I'm not limited to one
type, and the role I play on Dallas is not a caricature. I also have my singing and my writing — I wouldn't put all my eggs in one basket.