Rise of a sex symbol
For Audrey Landers of Dallas, life is a nonstop campaign to succeed in show business
By Carolyn See
Presumably she drives men mad with lust—or else all that work is for nothing— but she afflicts at least this woman with another kind of itch. It could drive you crazy, just how thin Audrey Landers is (except for that determined '50s chest) and how supremely pretty that soft round face how "bewitching" those clouds of hair, how exquisitely tinted the area between eyebrow and eye, how without blot that lipstick, which is the dull and perfect shade to set off the creamy complexion.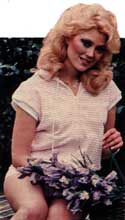 Ah, that lipstick, framing teeth that in a stroke of Hollywood genius have been created not exactly equal: the upper two have been left a shade larger and longer than the rest, so that one longs to grab Audrey Landers, pry open that mouth, file those infuriating teeth down perhaps, or jam them up into the gum. Audrey Landers is just a hair-raising fraction of a millimeter away from total perfection.
And she has landed on the perfect American show. In the year 1983, this great country of ours is divided into two factions; not Democrats and Republicans or doves and hawks, but those who watch Dallas with fanatical care and those who watch Dynasty with the same obsessive concern. "Your Dynasty," I have been told by one authentic expert, "is more what I would call contemporary. You've got your perversion, your twistedness. your dirt. But Dallas is more mainstream, patriotic, simple wealth. No one in Dallas would paint somebody's walls with poison paint for instance."
For three of its five years Audrey Landers has been on Dallas as Afton Cooper, parlaying one guest shot and then another into a regular slot on the show. One afternoon in spring, she and I met at Scandia, on the Sunset Strip, to discuss this, and she tells me about the part: "Afton had a very poor background from Biloxi, Mississippi, so she took one look at J.R. and they ended up in the bedroom! Afton saw J.R. as the key to the way out of the way she was living then. But J.R. only used her! So she dumped him. When he wanted her to take a vacation with another man, she said 'No way, José!'" And here, Audrey Landers smiles.
She smiles in such a way that the smile doesn't reach her eyes; not because she's not friendly, smart or kind, but because if you really break down and grin, it could show up as crow's feet someday. She smiles and suddenly becomes Afton: "I am the only mistress on the show ever to have dumped J.R. (Landers was right—until Holly Harwood came along recently.-Ed) Because if I went on that vacation, people wouldn't want to speak my name in Dallas! I mean, with J.R., that first season"—and here she snaps back to being Audrey Landers—"Afton wasn't just after him for the money. She had to really love him to put up with him as much as she did."
Audrey Landers was born in Pennsylvania, moved as a tot to Rockland County, N.Y., where she attended Ramapo High School. But soon she was out of the ordinary. When she was 12 she sang on The Merv Griffin Show; an agent was in the audience. By the time she was 13 she was a soap-opera regular on the Secret Storm. From that she went soap, Somerset, playing Heather Kane for three years. Meanwhile, she was still in high school, getting good enough grades to be accepted into Barnard College, to take classes at Columbia University-which had the particular courses in pre-med and Psychology she needed-to get her B.A. from Barnard, while doing TV commercials on the side and taking extra music courses at Julliard.
A kind of depressed hush comes aver the table at Scandia. Seven years on soaps, plus a degree from Barnard by the time you're 19, plus all that mascara, and never getting a square meal, is exhausting to think about.
"How'd you do it? How'd you do all that?"
"My mother." Audrey Landers answers, a little primly "My mother is very supportive. I consider her my best friend. She always did everything to be sure that we got to do what we wanted to do. Because, don't forget, there was my sister Judy, too. Judy was New York State gymnastics champion before she ever decided she wanted to be an actress."
Landers talks for a while about her sister, who was a regular on Madame's Place. "There`s no one as wonderful as Judy. We have a house together up in the hills. She works so hard! And she's so smart! She has a whimsical way about her, and that high voice, so that — you know — people don't know how smart she is."
Then she recites a list of accomplishments—singing in this, appearing in that. She, Audrey, will be working with Bob Hope this weekend in a variety special, and there will be a big dinner at that golf classic—her mother is coming out for it. And next week a local television show is coming out to the house to see how she and Judy live, and after that there's the new nightclub act to get ready. All the while Dallas is still being shot, of course.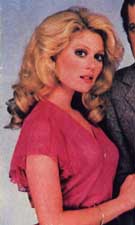 I ask if she ever gets tired. She gives me a look.
"Yes, sometimes, I suppose. Well, yes. Of course." Another careful smile "Just last week Judy and I were both home, and we each put on some pants and put our hair back in pony tails, and wore our dark glasses and put the dog on the leash, and took a walk down to a little park at the bottom of the canyon. And we both remarked to each other that it was the first time in almost as long as we could remember that we were doing something we didn't have to do."
Next week, on a rainy day, we meet again, in the MGM Commissary. This time she will be accompanied by Stuart Ehrlich, her personal manager, a pleasant man in his early 30s.
Audrey Landers appears, her beauty holding up well under the unforgiving fluorescent lights. She's not in the best mood "I had to run in the rain, and I'm afraid I'll get spots!"
"Did you see your ratings?" Ehrlich gently waves today's copy of the trades under her nose. "If you take Dallas and the Bob Hope special together. more people in the United States may have watched you this weekend than . . ."
Landers nods noncommittally. She orders--fresh fruit--and explains the scene she's doing today, where she orders Cliff's sister out of the house: "l really get mad," she says, but her face doesn't show it.
I ask what she plans to be doing in 20 years. Her eyes open very wide.
"Just what I'm doing right now! What else!"
"We had something of the Ann-Margaret concept in mind," Ehrlich says. "When you look at Ann and the kind of career she's got now... She looks terrific, and she's a terrific draw in Vegas-more than ever before. She has the respect of the industry. So, I guess that in 20 years Audrey will have that kind of career."
"Except that I will not have played the kind of roles she did when she first started!" Landers raps out, and conversation languishes after that.
After she's gone, Ehrlich sighs. "ln this business, it's very hard to ever get any time for yourself. On the weekends, the clients have to know where you are. On vacations, oh, you can leave a number, but they still have to know exactly where you are. If anything happens-they depend on you. . . ."
What Ehrlich is talking about is, again, perfection, the care and precision and persistence and craft that go into the making of an impossible image. Audrey Landers has been well brought up. Leonard Katzman, producer of Dallas, speaks of her in loco parentis: "When Audrey started to work on the show, my wife and I more or less adopted her. That should tell you about our relationship. We were looking for a grasping little girl with money in her eyes You can see that, with Audrey, we were casting against type. And now, of course, she's with that miserable loser, Cliff Barnes."
Ken Kercheval. who plays the "miserable loser" in question, is brotherly and protective. "Audrey is extremely conscientious and she works very hard and she's too young for me! And my character on the show treats her so badly, she just can't win, the poor girl!"
Watching Audrey Landers on the set that same maddening perfection prevails: she stands precariously on 4-inch heels, her shoulders back, her sweet and painted face devoid of expression as her "miserable" boy friend chews an apple with his mouth open and berates her. If every American boy had a girl like "Afton" to kick and kiss, every American boy might be happy.
But such beauty is strictly guarded. Audrey Landers doesn't date in a haphazard manner, and was, in fact, introduced to her current boy friend by her mother at a closely chaperoned business lunch. Not until much later will she tell me about him--even then, refusing to divulge his name. "He's in his early 30s, and he's very considerate and has strong values. I can depend on him. He's very conservative and I am too. He's a very successful businessman, a fine paper merchant. Every weekend he flies to wherever I am."
When I ask if she just doesn't ever want to kick out, or if she never worries about anything, she answers me in a voice that seems to know every implication of what she is saying. "you could say that, in a sense, I am a product. My image precedes me wherever I go. I can count my true friends on one hand, and my friends are my mother, my sister and my boy friend. My friends are my family."
Next week, when I go visit Audrey Landers at her home. a television producer answers the door and puts an automatic finger to his lips. 7 on Location, a show produced for ABC owned-and-operated stations, is shooting, to show how the Landers girls "live." The enormous front room is littered now with camera, sound and lighting equipment Ehrlich is here, serious and concentrating. "Audrey's mom is back in the kitchen," he says. "Go on back and say hello."
In a sunny dinette, papered in an elegant French design, is the most extraordinary person: a supremely pretty, soft round face. bewitching clouds of soap-opera blonde hair, lipstick the dull and perfect shade to set off a creamy complexion. Only the body beneath it is, however attractive and well-groomed, a tad more matronly than that of her daughters.
Mrs. Landers sits me down, pours me some coffee smiles warmly insists I remove a perfect napkin from its perfect ring. "It's there to use!" A maid brings in an enormous platter of baby quiches, Vienna sausages and cheeses and another of petit fours. "Eat, eat! Put something in your mouth!"
After some initial shyness Mrs. Landers begins to talk. Since she says she'd rather not mention her daughters father (who drifted away about 20 years ago, leaving her with both girls to bring up), the story of her life revolves around a conspicuous blank, the blank left when you're all alone in charge of two little children.
"I was a model and I worked all day. Then I'd come home, play with the children, bathe them, feed them, get them into bed. Then I'd start doing the housework. I'd be up sometimes until 2, 3 in the morning. When the girls got into school, I started my own business. But I told them: you be the perfect you! Nobody else could be that!"
Trailed by the television camera, the two sisters go jogging, to show how they keep their wondrous figures Mrs. Landers takes me on a tour of her daughters' house—the pool, the secluded patio, the sunken alcove around the fireplace, the madly dramatic dining room all in beige and glass with a gaggle of life-size, hand painted flamingos across one wall. Mrs. Landers is very proud. "The way I told the girls," she says shyly. "you set your goals. And then you attain them."
I can't help remembering Ehrlich's earlier words. "When I have the three of them with me, wow! It s almost too much, you know," he said, grinning "l mean, when we're on tour and we check into a hotel and the man will ask, 'You want adjoining rooms?' I say 'No, no! Put me on another whole floor!' Three gorgeous women are too much to handle!" Too much perfection can be overwhelming.
© 1983 TV Guide