Dangerous Curves Ahead
Judy Landers has been truckin' along as BJ and the Bear's resident sex object
By Ellen Torgerson Shaw
Every year hundreds of beautiful blondes toddle out of buses, planes and cars in Hollywood, their little hearts beating fast at the thought of becoming as famous, rich and adored as Loni Anderson, Cheryl Ladd, Farrah Fawcett. Bo Derek, Marilyn Monroe and other celebrated fair-haired women. The sexy, gorgeous blondes who turn men into melted butter have always been a Hollywood staple--indeed. a Hollywood signature.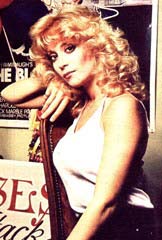 Women have been known to dye their hair, hotly hoping to become The Blonde. Some have been known to accept the embraces of strangers for the same reason They have even, in desperation, signed up for acting classes.
Often they simply appear and are offered contracts. One of these less calculating blondes—right now—is 20-year-old Judy Landers, whose curly, pink-blonde masses of hair and extravagant figure are presently gracing each and every episode of BJ and the Bear, the silly hurrah for truckers that NBC hasn't chosen to put back on the road next season. Judy plays a lady trucker named Stacks. What else? Her whispery. tiny. baby-girl voice, big, innocent eyes, and pneumatic bosom are in the old. still-honored tradition. Blonde sex object. Blonde sex object. Blonde sex object.
Judy doesn't share that view. Not a bit. First of all, the scanty clothing she once wore in the series now has given way to merely tight jeans and molded work shirts. "I'm flattered that people think of me that way." Judy says in her small voice. "but I don't think Stacks is a sex object. I do other things-like being an undercover cat burglar. Stacks has brains. I know people associate giggly with not being very bright, but Stacks knows what she's doing."
So does Judy. Charming and open, she says, "l want to be a movie star."
Once she wanted to be a veterinarian--and she is still sappy about animals. And once she wanted to be a professional gymnast and perform in the Olympics. Her decision to become an actress wasn't easy.
"l wasn't a pretty child and I was a real shy kid. very quiet," she says. "l never smiled around people, they called me Stone Face." (Her mother and manager, Ruth, recalls Judy hiding behind her skirts.) And there was another problem: her older sister (by two years), Audrey, was beautiful, outgoing, and an actress from childhood. Indeed, Audrey now plays Afton in Dallas.
Thus it was hard for a timid girl who didn't think she was attractive to allow herself to dream of being an actress. Not that her mother and her sister did not encourage and, perhaps ever so slightly, push Judy toward an acting career.
"l always thought she was beautiful," Audrey says loyally. "l felt like another mother watching her blossom." And Ruth, who struggled alone for many years to raise her girls, remembers telling Judy she'd grow up to be a smasher. Judy remembers it, too. "l used to ask my mom if I'd ever be pretty. She promised I would be." Then. according to Judy. Ruth would leave the room and say under her breath, "Please God."
In an interview at the West Hollywood apartment the sisters share—Ruth was also there recently on her monthly visit from New York—Audrey brings out a photograph album. Without question Judy was a scrawny, huge-eyed, brown-haired child. Incredible. Good bones did peep through, but who cares about good bones at 10? "You began to develop about 13," says Audrey, "but you didn't have any breasts until you were 14."
Maybe that's when gentlemen began to notice Judy. Greg Evigan, BJ in the series and its top star, says, "l know she's a sex symbol when guys ask me. 'Hey, man, how's Stacks doing?' I ask her, 'Are you going to play off what you've got, or are you going to be serious about acting?" Evigan reports her answer is always "Yes."
Judy, born in Philadelphia, grew up in Valley Cottage, near Nyack, NY Her childhood was ordinary except for her painful shyness and her father's departure from the family when she was very young. Not atypically. she always tagged along after Audrey.
"Audrey was a child model," Judy says "She did commercials and lots of neighborhood plays. I used to go to rehearsals with her." Then Judy found something of her own when she was about 12—gymnastics. She was so good that she won a state championship for Ramapo Senior High School. Gradually she moved in the direction of her present career—thanks initially to Audrey, who secured a commercial that required a gymnast. "I said I'd go if I didn't have to talk," Judy recalls. She did the commercial. "Then I sorta admitted I wanted to be an actress, too." From that time on, Ruth took Judy to audition for commercials. "Mom would say, 'you'll get this one.' I'd be in a great mood. then I'd get real shy and freeze in front of the camera. I never got any commercials."
Three years ago Audrey and Judy moved from the East Coast to the West Coast. Judy left behind her fiancé who had been her high-school boy friend; last year she canceled their wedding plans ("l wasn't ready to marry. I'm not ready now") And. . . "I had a lot of determination about my career Audrey had an agent in Hollywood and she took me to him He jumped up and said to me, 'You'd be perfect for this part.' I went to Universal determined to be myself." That strategy turned the trick, and Judy captured the role of Wanda "the Bod" in a single episode of What Really Happened to the Class of '65. From then on. she did TV-movies, Happy Days, pilots and 21 episodes of Vega$, playing Angie. Dan Tanna's silly-billy secretary. She took a similar role in the movie "The Black Marble," and tested for Stacks.
Judy's theory on how success comes about is almost in the Miltonic "fame is the spur" category. "l think if you went something real bad, you discipline yourself and you get it. Give it everything, concentrate. .and.. I believe in God; if you're a good person, that's what God wants. But you do have to work real hard."
When she first took the job on BJ and the Bear, Judy felt that "l had to prove myself, so I asked one of the drivers to help me learn how to drive the 18-wheeler." Judy went off to the parking lot at Universal Studios and was able, within an hour, to drive the truck well enough to send it hurtling down the road, air horn blowing, to where the cast and crew were eating lunch. It was wonderful, Judy says. "It scared everyone out of their wits. Plates went up in the air and everything."
Much about Judy is, as she herself announces, "old-fashioned": She calls her mother "Mommy"; she says her mother and sister are her best friends and means it. Often, she telephones Ruth from the set by day and again at night. Fun is working out on the beach Her food habits are plain, too. She is a vegetarian who sometimes will eat "lower-life forms, like clams." She orders iced coffee for lunch because "Wine makes me silly." Despite all the men clawing to get to her, she says. "I've only had two boy friends in my life. I had a strict upbringing, real proper." Besides, she thinks all those stories about Hollywood's wicked, wicked ways may be overstated.
Basically, Judy's like a little girl on her first trip to Disneyland. "A director once told me that my attitude was neat," she says. "After the day's shooting was over, he said to me, 'OK, Judy. you can go back to your gilded cage now'." Perhaps she'll keep the door open so that when she tires of being a blonde sex object, she can escape.
© 1981 TV Guide