Audrey Landers, who played the girlfriend of Cliff Barnes in Dallas, finds her career more important than love.
For her role in the film to A Chorus Line her friend cheerfully lets her shoot!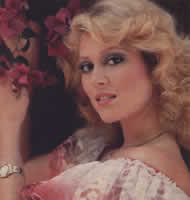 "I have added it up and in total, I trained and practiced hard for no less than two thousand hours for my role in the film A Chorus Line! Seven months from seven am to ten pm I was singing and dancing. But I have enjoyed it and am very proud of my role."
Audrey Landers, which we all still know as Afton, the former girlfriend of Cliff Barnes from Dallas, can be also proud of her role in A Chorus Line, the film which cost 75 million guilders. It is an important and definite breakthrough for Audrey and more roles will pile up. It was difficult enough get the role, she tells: "At the audition I was up against two thousand other girls, therefore I was nervous!! But I was chosen and as of that moment I have worked really hard."
Audrey worked so hard that she had no more time for love, and a beautiful relationsip with a New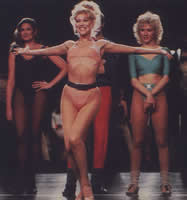 Yorker was put on the shelf. Sadly Audrey says: "I had no idea that might happen, but a man needs much attention and I could not give it to him then. Fortunately we are still not just good friends, but more. At the moment I cannot think about a relationship or a marriage, for I am simply too busy with my career. But ah, I am still young, therefore I have enough time for marriage later."
Her role in the film cost Audrey Landers not only her lover, she also incurred a back injury from it. "In my back a nerve has been pinched, she says. That is very painful, but I hope that it heals rapidly and that I do not need to have an operation." There are enough plans for Audrey Landers for the future. However her mother, who is also her manager, as yet has nothing to say. "She sees people automatically, however," Audrey laugh mysteriously.
And the series which opened so many doors for her, she answers the question if she will return ever to Dallas: "That is still possible, because Afton Cooper isn't dead. And I would like to take part again in Dallas, because I have really worked there with everyone delightfully."
"I really miss them also. But I do not want to participate again weekly. I now find my career as a singer more important!"