Unrivalled sexy siblings
It's Double the pleasure and double the fun for viewers as Audrey Landers cuddles up to J. R. in Dallas and little sister Judy keeps on truckin' in BJ and the Bear
Sibling rivalry won't mar the relationship of Audrey and Judy Landers when each becomes a regular on established series hits this season. It's a foreign notion in their lives anyhow.
Audrey, 22, portrays Afton Cooper, a crafty lass from the Deep South who is becoming one of J.R. Ewing's main squeezes on Dallas. Little sister, Judy, 20, will entertain the jelly bean set as Stacks, the buxom lady trucker panting after the hero in BJ and the Bear.
Network television's hottest acting sisters hit Hollywood together about two years ago and set up joint housekeeping in a huge, airy apartment on the edge of Beverly Hills. Best friends, they back each other's careers 110 per cent - even on the rare occasions they are up for the same part.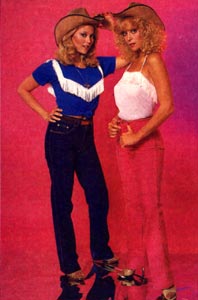 "There are no jealousies between us if one gets the part and the other doesn't, because we love and help each other," explains Audrey, definitely the older, authoritative and articulate sister. "It's because we both know that we are very special individuals and very good at what we do. We also know that we will individually have good and bad weeks. We have a simple theory: It's okay as long as one of us gets the part and nobody else gets it."
All their earnings go into the same bank account under the name of Landers Stars, Inc., suggesting highly positive thinking. The company was set up by their best friend and personal manager, Ruth Landers, the proprietress of an extremely successful printing business who also happens to be their mother.
Both sisters share intense determination in the pursuit of careers, were born in Philadelphia, Pa., and grew up in Nyack, upstate New York. Both are leggy and blonde, though Judy is two inches taller than her big sister at 5-foot-5. Most similarities end there. Audrey laughs; Judy giggles.
"I started out professionally at 12, when I cut a demonstration tape of my singing and sent it to the Merv Griffin Show - and got a spot from it," Audrey recalls. "I should have been scared, but I didn't know any better. An agent was in the audience and offered to represent me; within a couple of months I was a regular on the soap The Secret Storm."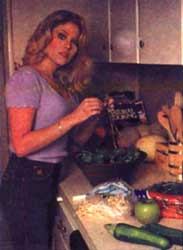 While polishing off her premed studies at Columbia University, Audrey did a fouryear stint on another afternoon serial, Somerset. After dozens of guest shots on variety and episodic shows - plus a soon-to-be-released feature film, Underground Aces - she knocked down the regular Dallas assignment.
"Wearing Judy's lucky dress, I went to read for the part on a Thursday morning. I waited by the phone all day Friday, which was my birthday. Oh, God, it was horrible! At seven that evening I got the good news from my agent and orders to fly to Dallas at 9 a.m. the following morning. When we called mother, Judy screamed so loud that Mom thought my sister had gotten the part."
Unlike her smooth, outgoing sister, Judy suffered from near-terminal shyness until a couple of years ago, prompting relatives to dub her Stoneface. "You may say I was the very opposite of Audrey, soon dedicating myself to gymnastics as much as Audrey was into acting. After years of performing routines before crowds, I realized that I wanted to be an actress, too."
Judy was no ordinary jock, eventually becoming the 1974 New York State tumbling champion - competing against 98 boys and one girl. Her showbiz break came when Audrey landed a local commercial calling for a gymnast in the background. Encouraged, Judy studied with an acting coach in New York after high school.
The sisters have different personalities, yet have been picked for the same parts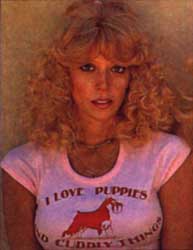 "I was introduced to Audrey's agent when we moved to Los Angeles. As I walked into his office for the first time, he yelled, 'Ahh, you're perfect for a part over at Universal Studios!' The part was already cast, but he insisted on sending me anyway. I got it, playing Wanda the Bod in What Really Happened to the Class of '65? My first audition."
Giving off an aura of dizzy naivete in real life - though far from naive - Judy landed plenty of fluffy ding-dong roles in a row, including one as the silliest of the two secretaries on Vega$ during the first season. "I love playing dumb because it's fun and I do it well, but that character was too one-dimensional. I couldn't wait to get out of it."
She landed the Stacks character on BJ and the Bear a few weeks before Audrey starting fumbling with J.R.'s buttons. "I first read for another character, Sam, but didn't get it. A week later another script arrived with Stacks written into it. I was so positive about it that I thought they had written the character especially for me." That wasn't the case, but she got it anyway.
Though very different in terms of personality, they have occasionally been picked by casting directors for the same part. "We both read for a pilot called Coed Fever at NBC, and the principals - who didn't know we were sisters at the time - made us the two top choices for the part," Judy says with a giggle. "They offered me the part first, but I was busy. Then Audrey, but it turned out she couldn't do it either."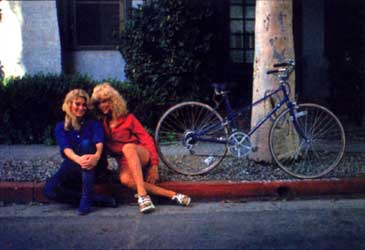 "Goober's Girls was another pilot that didn't work out," Audrey recalls. "I went to pick up Judy after an audition, and the show's director decided I was better suited for the part. I wound up with the job instead of my sister, who had to bow out for something else."
Both girls are putting careers before marriage
Though they frequently double date both girls have "a special guy" - marriage and family remain out of the question for at least five years. Careers come first and foremost.
Vacations are often spent together with their parents in Europe or in the Caribbean, but leisure time at home means Judy heading for the beach with her bikini fashion show and Audrey heading for the seaside on rainy days to sort out things on her mind. Whereas Audrey prefers silky, slinky dresses, Judy prefers jeans and fluffy pink sweaters. Each is ultra-feminine in her own way.
Cooking and housework seem to fall largely on big sister's shoulders, though both young TV stars profess to clean up when time allows. It could be a source of corporate squabble when the windows must be cleaned.
Herman Helton
© 1981 Toronto Saturday Star