Audrey & Judy Landers: Sister Celebrities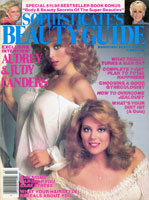 From Philadelphia to Hollywood, the Landers sisters (Audrey, who plays J.R.'s mistress on Dallas - Judy, who played 'Stacks' on BJ & the Bear) have stuck by each other & still remain extremely close despite their celeb status. Here, in our exclusive interview they reveal their beauty secrets, thoughts about men, Hollywood & being sisters.
Hair Care & Styling Secrets
Audrey (who plays Afton on Dallas) has "lots of hair" which is fine and naturally curly. "It's normal to the dry side" explains Audrey, "and basically gets dry because of all the hot rollers, blow drying and hair spray that's used for the show" The older sister, conditions it once a week and prefers wearing it in a "softer style with curls on top" for evening, while during the day she likes to wear it down. As far as hair color is concerned Audrey's present color "is a little lighter than my natural color; my natural color is more of a strawberry, light brown."
Judy (who played Stacks on BJ & the Bear) basically has the same type of hair as Audrey, but according to Audrey, it is "very heavy and curly." "I use a moisturizer every day in the shower," explained Judy and prefers to wear it soft for evening, setting it in hot rollers. The younger sister lightens her mane slightly by using highlighting.
Skin Care & Makeup
To keep her normal to dry skin looking good, Audrey uses "avocado masks" on a regular basis, and is very aware of removing the heavy makeup from the show thoroughly.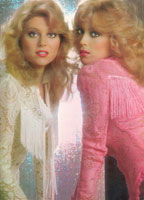 Judy's skin type is normal to dry, but she does admit to having a "T-zone" where it is a bit more oily. Judy uses a moisturizer and Nox­zema to keep her skin looking good and does use a homemade "egg white mask for closing and tightening the pores."
Eye makeup for Audrey usually runs In the lavender family "especially when I'm getting dressed up for evening." "Not purple-bright," she explains, "but a lighter shade of lavender, which I ex­tend out to the corner and from the crease in the lid." She also uses a darker, smokier color for the area above the crease and lines the top and bottom of both eyes. For blusher, Audrey prefers the peach family and coordinates lip color with blush. She does line her lips and "keeps makeup in the same color family."
Judy has naturally larger eyes and doesn't need to highlight them as much as Audrey does. She also sticks to the peach family for blush and Iip coloring and lines her lips.
Diet Exercise & Fashions
"I'm pretty lucky," says Audrey when asked if she is naturally thin or whether she must work at it, "my weight hasn't gone up or down tremendously. It depends on my work schedule ... but I don't ever really diet. When I'm not as active I must watch what I eat." Her weakness? Italian foods! On weekends Audrey finds the time to exercise by swim­ming, horseback riding and jogging.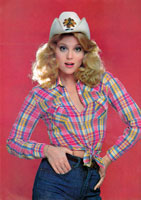 At the age of 13, Judy discovered gymnastics. "I had a talent for it when I was a little girl," she says, "I was doing acrobatics and flipping myself around!" The lovely blonde went on to win the New York State Tumbling Championship just a couple of years later and still "works out" Besides gymnastics, Judy enjoys swimming, waterskiing, track and field events and dancing. "I'm also a vegetarian," she explained, "and have been for quite a while." Though she admits to eating fish and poultry, she stays away from meat for the most part. The sisters, who live together in Hollywood, also have a pool so they can swim whenever they desire.
Back when she was doing BJ & the Bear, Judy who professed a fondness for jeans, had to wear extremely tight ones and now prefers "soft, feminine-style dresses with laces and frills."
Audrey who usually is seen in sultry dresses on Dallas prefers the classic styles and "loves the 40's look" For casual daytime wear, she enjoys wearing jogging suits for their comfort.
Men, Hollywood & Being Sisters
Sophisticate's: What do you think makes a man sexy ... what turns you on?
Audrey: Warmth and sincerity, and personal success no matter what profession they are in.
Sophisticate's: Have you ever both liked the same man?
Judy & Audrey: No, we don't think so!
Audrey: I'm more attracted to a certain kind of man than Judy is and the same type of man wouldn't be attracted to both of us. Judy and I are very different and men notice that!
Judy: If a man is attracted to Audrey, he probably won't be attracted to me, because we are two different types.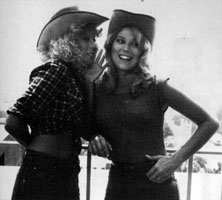 Sophisticate's: How are you both different?
Audrey: I have the personality of the older sister!
Sophisticate's: Judy?
Audrey: She's the little sister. .. the punk of the family (jokingly) you know, my sister the nerd!
Judy: I'm very sensitive when I'm around people I don't know. I'm an introvert.
Audrey: She also hides her intelligence.
Judy: No, I don't!
Audrey: That's not what I meant. I meant when you're with people you're not secure with you hide your intelligence; it's basically when you're not comfortable with people.
Sophisticate's: Are you competitive with each other as far as career is concerned?
Judy: We always want what's best for each other. If we're both up for one role, we both have more of a chance for one of us to get it. If one of us does get it, we'll help each other.
Sophisticate's: Have either one of you run into anything where the sister relationship has worked to a disadvantage or an advantage?
Judy & Audrey: It really works to an advantage. We always have someone we can ask about things ... someone we can trust to get an honest opinion.
Sophisticate's: Audrey, are you anything like the role you play on Dallas?
Audrey: No, not at all. (The only trait they do have in common is their singing career, Afton sings Audrey's material)
Sophisticate's: What do you think marked a turning point in your career, Judy?
Judy: I think having a feature role on Vegas for a year gave me a lot of exposure. Originally I went up for an episodic role that I really wasn't right for, but they saw me and felt they wanted to use me. Then I got the script, to read for Angie, and it was perfect. I stayed on for one season but found that the part was limiting.
How the Landers Sisters Made it to Hollywood
The hazel-eyed, 5'5" blond and younger sister Judy Landers, was born in Philadelphia. At age 13, Ms. Landers discovered gymnastics and went on to win the New York State Tumbling Championship just a cou­ple of years later. While still in high school, Judy decided to become an actress and enrolled at the American Academy of Dramatic Arts, and then followed up at the Warren Robertson Dramatic Training School. When her older sister, Audrey, decided to move on to Hollywood, Judy went along and met her older sister's agency. After that she landed a variety of roles and started working steadily. Besides gymnastics, Judy likes doing needlepoint, listening to music, collecting bikinis and angora sweaters and driving fast.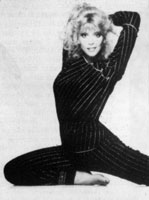 For her role in BJ & the Bear she learned how to operate the 18-wheel rig she drove in the series. She is also an ardent animal lover and works for animal shelters whenever possible. As a matter of fact, she has been known to adopt any stray animal that crosses her path. Judy does feel she owes a great deal of her success in life and in her career to her mother/manager/best friend, Ruth Landers, former model and actress on the highly-rated television series of the 60's, Naked City. Solid values and a mother's reminder not to be afraid of yourself form the basis for Judy's successful credo: "Work hard, be pa­tient, never lose touch with reality and always count your blessings."
Audrey, an unusual combination of brains, beauty and talent, is ex­actly the opposite of the opportunistic Afton Cooper, she portrays on CBS' hit series Dallas.
Audrey literally grew up on daytime television, making her professional debut at age 13 on the CBS daytime drama, The Secret Storm. A three and a half year run as Heather Kane on NBC's Somerset follow­ed. Her songwriting career began as a result of a Somerset script call­ing for her to sing and play a guitar. "I had to write my own songs to hide the fact that I only knew three chords" she explains, and it worked. The next script called for me to sing and play a song of my own composi­tion. Audrey has currently recorded two singles for a major record company and is developing an act for Las Vegas.
While working on the soaps, the older sister managed to take pre­med courses, earn a Bachelor of Arts Degree in Psychology and spend a year studying music at Julliard. She .moved to Hollywood in 1977 and guest starred on such popular series as Marcus We/by, M.D., Happy Days, Fantasy Island, Charlie's Angels, etc. Although Audrey chose to pursue an acting career instead of medicine, her other love, she maintains her interest in gerontology, the study of ag­ing, by working with senior citizens on a volunteer basis.