Lunch with... Judy Landers
Winning state gymnastic championship may seem like a roundabout way of becoming an actress, but that is how Judy Landers, our beautiful cover girl, got started. "Even though I was flipping myself around and putting on circuses in my backyard since I was three," she says, "I was always very shy. When I was seven years old. I joined an acrobatics team that would do local performances at shopping centers and basketball games in upstate New York. Then, when I was nine, I got into competi¬tive gymnastics through a club at school."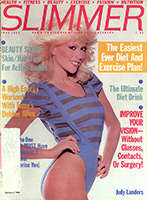 Regardless of this public exposure, she remained shy, perhaps as a counterpoint to her older, more outgoing sister, Audrev (who plays Afton on Dallas). "Audrey was an actress when she was six," Judy says. "My mother always treated our achievements equally, but I never had the courage to admit to anyone that in my heart, I wanted to be an actress too. When I was 16, though, I won the New York state tumbling championship. That somehow gave me the confidence to tell Mom that I wanted to go into acting as well."
Her mother was supportive, so Judy decided to "give it all I had. I doubled up courses in high school and studied acting at night at the American Academy of Dramatic Arts. I worked hard and graduated early. Then my mother, sister and I moved to California."
The streets of Los Angeles were apparently paved with gold. Judy met Audrey's agent, was sent to an audition, and got the first part she ever tried out for, a character named "Wanda the Bod" in the television series, Whatever Happened to the Class of '65. Since then, she has made guest appearances on shows like The Jeffersons and Happv Days, and has had regular roles on Vegas, BJ & the Bear, and, currently, on Madame's. Place. She has also just finished a feature film, The Tennessee Stallion, in which she stars with Audrey.
Rather than compete with her sister, she thinks of her as a partner. "We came out here as a team," she says. "We live together and put all our money in a common pot. Regardless of who is working on what, we draw equal salaries. We will always live close by each other, I think, and eventually hope to buy a big piece of property and build three houses, one for each of us and our mother and our husbands."
So that she can keep working and make that dream a reality, Judy makes sure she stays in shape ... I have been a vegetarian for the last eight years." she says, "and make sure I eat a lot of vegetables. I used to rely on eggs for my protein, but found that I needed more, so I started eating fish, as well. More than anything else, I love fresh fruit, especially mangoes, and eat plenty of them."
She also gets plenty of exercise. "People should find forms of exercise they enjoy," she believes, "If they don't, they'll find every excuse in the world not to do it."
Taking her own advice, she juggles the type of exercise that best fits her mood and schedule. "Lately I've been having to report to work at 6:30 am.," she says, "and don't have a lot of free time. So I've allotted an extra 30 or 45 minutes each morning to an aerobics workout. I put on the Jane Fonda Workout cassette, and before I know it, I've done my exercise, When my schedule eases up or when I got bored with the Workout, I'll switch to jogging."
In addition, she has been learning how to work out on the trapeze for an assignment on the Circus of the Stars television special. Although it started out as work, she loves it and has made it a new hobby.
"Not only is the trapeze great for your muscles," she says, "but it is the ultimate challenge. At first, standing 40 feet in the air and thinking about what I had to do was very scary. Hut I worked hard and slowly got over the fear.
"As I progressed, my teacher would tell me that I was going to be so good that I would fly through the air. I thought he was joking. Then, a few weeks later, he brought out a hoop and told me that it was the one I would use for the fire trick. I still thought he was kidding."
But about a week before the show was to be filmed, she realized that he wasn't kid¬ding and that they really did want her to go through a burning hoop. "Why fly through fire," she asked. "Because you can do it," her teacher said.
Still, it was her body that was going to be propelled through the flames, so Judy said she would think about it. After a few days, she decided to meet the challenge head-on and "go for it."
The day before the show was to be filmed, she practiced the trick, but without the fire. "Instead of clearing the hoop," she says, "I hit it. The hoop was made of iron, my leg was bleeding, and it hurt. But they cleaned me up and told me to do the trick again so my last memory of the trick would be one of success, not of failure, and I would be able to do it right the next day. The second time I tried, I got it right."
The next night was the first — "and last" — time she flew through the burning hoop. "But I ignored the fire," she says. "I knew if I didn't think about it, and just did everything the same way I did it that last time, I would be fine. Still, I was such a happy girl when it was over."
Now that it is, life can return to normal, with people jumping hoops around Judy, rather than the other way around.
Neil Feineman