Spotlight on Audrey & Judy Landers
These Sisters Make a Sweet Pair in Their New Series, Rock Candy!
They've long been known as the hottest sister act in entertainment; both blonde, sexy, and immeasurably talented. Audrey and Judy Landers were born to be stars and it's quite evident in their new TV series Rock Candy.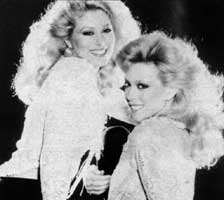 Besides stairing as the bubbly Val in "A Chorus Line," Audrey is one of the biggest tickets musically in Europe and throughout the world. Few people are aware that while playing Afton Cooper on the nighttime soap Dallas, she spent most weekends and vacation breaks overseas, performing to tens of thousands of people in concert there. She has 14 gold and platinum records in Europe and has just returneded from Germany and Austria where she starred as Johann Strauss'second wife in The Waltz King, a biography of the composer.
As for Judy, she made her dramatic debut in the feature film Hellhole and starred in the recent comedic movies Stewardess School and Armed and Dangerous with John Candy. She has co-starred in the TV series Vegas and B.J. and the Bear and joins her sister Audrey in a nightclub act they perform for audiences in the U.S. and overseas.
In Rock Candy, these stunning siblings play girl-next-door types who put together their own rock band. Modern Screen had the opportunity to interview Audrey about the show, her relationship with her sister and their personal and professional lives. Here's the interview word for word:
MS: Tell us about the pilot that you just completed for Rock Candy.
AL: The project is very, very exciting for us. We thought of the idea almost two years ago. We basically put together this band, Rock Candy and the Jawbreakers. My mom is the executive producer of the show and we did all the casting for it. We also designed the wardrobe for it and got involved in set design. The series and the pilot has a new song in each episode which Judy and I co-wrote.
MS: What types of characters do you play?
AL: The basic story is two sisters that live with their father who is an ex-bandleader. The mother had walked out years ago. He is a soft touch and has given his last dime to his buddies. We cannot make our house payments. Judy plays a flaky girl who is boy crazy. I am sort of the one that keeps the family together. Dick Van Patten plays the father. The fun part is that we play these regular, run-of-the-mill girls and we have this rock band in our garage. Each week there is a new situation involving music.
MS: Who were your influences while you were growing up?
AL: When I was growing up, I enjoyed the actors of the '40s-Lana Turmer, Susan Hayward. They are my two favorites.
MS: When did you decide that you wanted to be an actress?
AL: When I was three-years-old. My mom was a model and an actress and I think that is how I got my first taste of show business. I did a commercial with her at age three for bubble bath. I did a lot of local theatre and school plays. I did my first professional job when I was about 12. I had cut a demo tape of a song that I had written and through a friend of a friend, it got sent to The Merv Griffin Show and I was asked to do the show.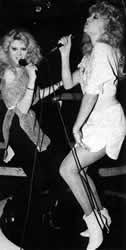 MS: Were you nervous?
AL: I think I was too naive to be nervous. An agent was in the audience and asked if I wanted representation. Of course I wanted to be represented because I could not get an agent since I had never worked before. She sent me on my first audition for a soap opera called Secret Storm. I got that and stayed on it for about a year and a half. That was my first big break. I was able to sing on that soap and that is when I got into songwriting heavily.
MS: Which is your first love, acting or music?
AL: Music is my first love. But I would never be able to choose between the two. I spent my whole career trying to incorporate the two.
MS: Did you ever think of doing anything else, besides entertainment?
AL: I was pre-med in college but creativity really does make me happy.
MS: Tell us about The Waltz King.
AL: I'm not sure if that will be the final title for it. It's a very interesting international cast. It's the first co-production ever done between a Communist country and a Western country--East Germany and Austria. I had the opportunity to sing in it. I sing a bit of the die Fliedermaas opera. It is a beautiful film, a period piece.
MS: Given the choice, do you think you are geared more to drama or comedy?
AL: I enjoy doing comedy. I feel a bit more secure with drama. In my oplnion, Judy is a very strong comedian. She has great comic timing.
MS: How do you keep your egos from clashing?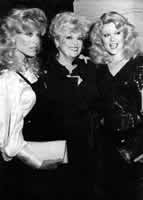 AL: We appreciate each other in talent and we want to be totally supportive of each other.
MS: Would you say she is your best friend?
AL: Absolutely...and my mom. We are really very close. We are lucky to have such a close working relationship as well as personal.
MS: Do you have time to date at all?
AL: I've been dating the same guy now for four years. He's not in show business and it works out very well for us. We have a very unusual relationship. He lives in New York and I live in Los Angeles. It is not a very romantic relationship because we are always fighting to see each other, airplanes, schedules.
MS: What are your plans for the future?
AL: More films. Maybe the one I've written. I just finished a screenplay. It's a heavy kind of historical piece, very much like a documentary.
MS: What is Judy doing?
AL: Judy started in show business a little later than I did. She started out in gymnastics and was heavy into state competitions. She was very good at it. At one point, she realized that she wanted to act. She loves comedy and is flattered that people want to see her as the silly blonde.
MS: What is she really like?
AL: She is a very determined, very bright young lady. She has strong ideas about everything and she has a great sense of humor. She loves animals; someday I think she'd like to have a big farm.
MS: Well, thank you for sharing your thoughts with Modern Screen.
AL: It was my pleasure
©1986 Modern Screen