American actress and singer Audrey Landers has just about recovered from the excitement of her twin sons' first birthday a few weeks back.
She and her husband Donald Berkowitz had special reason to mark Adam and Daniel's 12-month milestone, since the couple had faced an agonising wait of several years before Audrey became
Now the star - best remembered for her role as singer Afton Cooper in Dallas - is combining motherhood with her career. Audrey, who is in her mid-thirties, and her sons are based at their home in Beverly Hills, while Donald is forced to spend much of his time on the opposite coast, where he runs a paper distribution company in New Jersey. But naturally the whole family were united for the twins' birthday - which just happens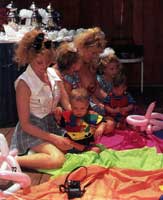 Not surprisingly, the theme of the party was Born In The USA, and everything was decorated in patriotic red, white and blue. Speaking about motherhood after her babies' first year, Audrey admits, "Two babies are a lot of work. However, I enjoy every minute with them, and I have lots of fun.
"It's incredible how quickly they've developed. Daniel is obviously a born romantic - he loves scenery and animals - while Adam is totally the opposite. He explores and investigates."
Audrey and her husband aren't coping with looking after the twins totally unaided. "l'd be lost without the help of Marina, my nanny," says Audrey. "She's really fantastic, and is brilliant with the two of them. Nevertheless, I've had to learn to organise my life completely, because the babies must have absolute
But Audrey has no intention of giving up her career. "Absolutely no way. I'm much too creative, and it's far too important to me to feel fulfilled by my work. I need the pressures of the business," Audrey admits frankly.
In her latest project she's working as a director. Together with her mother Ruth and her sister Judy, she is producing a 26
So does this superwoman take advice on how to bring up her children?
"I'm always open to, any tips that my mother can give me. She has so much experience, and I can learn so much from her. However, mostly I follow my own instincts as a mother," Audrey says proudly, giving Adam a big kiss.
Donald, meanwhile, spoke of his difficulties in combining parenthood with running his business. "Commuting has become a problem for me now that Daniel and Adam sense whenever I'm about to leave them," he admits wistfully. "At the moment I spend every second weekend at home."
Tenderly lifting Adam in his arms, the proud father says: "I think the babies already understand that they are brothers. They've slowly started annoying one another, and taking each other's toys away. Then the screaming really starts!"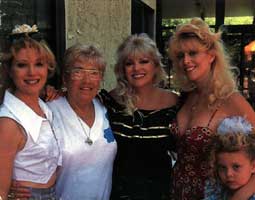 As the party began, friends and relatives -- including great-grandmother Jane, who'd flown in specially from Florida -- fussed over the twins, who were dressed in brightly coloured outfits. Then there was a knock at the door - the guest of honour, Mickey Mouse, had arrived. Every child's eyes lit up.
After that came the high point of the party. An enormous birthday cake was brought out, complete with two tiny candles, and all the grown-ups joined in a hearty chorus of Happy Birthday. Even the birthday cake followed the party theme and was designed like the US flag, decorated with the message, "Happy Birthday To 2 Little Firecrackers Adam and Daniel."
Daniel and Adam first looked at each other with huge eyes, then at the confection - and with a mischievous laugh, both stuck their hands into the cake. Everyone laughed at this onslaught.
After the twins had managed to smear themselves from head to toe in chocolate, both of them -- almost at the same moment -- began to look sleepy. It was time for the two stars of the day -- Adam and Daniel -- to bow out of the celebrations.