Judy & Audrey Landers
TV's Sexiest Sisters
By Linda F. Cauthen
Audrey and Judy Landers are not only the prettiest and most talented sisters you're likely to meet anywhere-they think they're the luckiest, too. Blonde and bubbly Judy, 21, is Greg Evigan's new love interest in her role as a foxy trucker in the hit series Bj and the Bear. (She's certainly more fun to cuddle up with than Sam the chimp!) Older sister Audrey, 23, has another enviable role-she's nasty ol' J. R. Ewing's latest mistress on Dallas. Audrey and Judy invite us to the apartment they share just off famed Sunset Strip and tell what it's like to be TV's hottest sister act!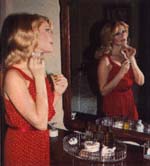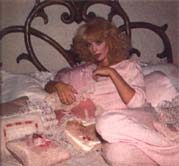 Audrey and Judy Landers consider themselves doubly lucky to have not only each other to depend on, but a beautiful and talented mother who has always encouraged them. Audrey remembers: "I always loved acting. When I was five I did some modeling. I toured in a play when I was nine, and when I was about twelve, I did a demonstration tape of me singing and sent it to The Merv Griffin Show. I got to be on the show, and then I did the soap opera Somerset and then The Secret Storm. When I finished college, I came out here with Judy."
Judy picks up: "My mom brought us out here right after I graduated from high school. Audrey already had an agent because she had worked in the soaps, and my mom took me to meet him. He took one look at me, said I was perfect for a part he was casting, and I got it!"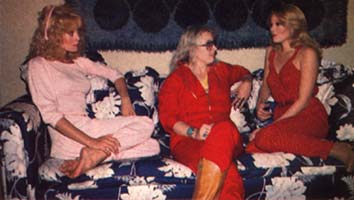 Judy did episodes of several series before landing a regular role on Vega$, while Audrey was cast in the brief series The Waverly Wonders and did a movie called The Underground Aces. Last year, things really began to fall into place for both sisters. Audrey says, "I got Dallas on my birthday-it was the best birthday present I ever got! I got a call on Friday night that I had gotten the part, and I had to pack and take off for Dallas right away so I could start shooting on Monday. Late Monday night we found out there was an actors' strike, so they had a wrap party and sent us back to L.A.!"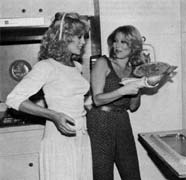 Finally the strike ended and Audrey eagerly began her role on Dallas. She tells about her character-: "I play 'Afton Cooper,' who is the sister of Mitch, Lucy Ewing's fiance. I come from a small town in Mississippi, and I'm in total awe of the Ewings. Afton seems very sweet and small town, but she knows what she wants and how she's going to get it! And of course, she catches J.R.'s eye!"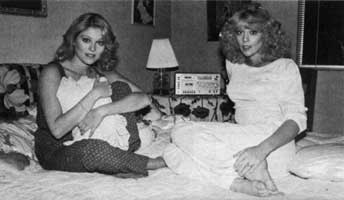 Judy has a less devious role as "Stacks," the lady trucker in BJ and the Bear. Judy has already managed to learn how to ride a motorcycle and wreck a van (accidentally!). She's quite happy with the show and her co-stars. "I'm having a great time. Everybody gets along great. Greg Evigan is so much fun to work with. He's so spontaneous that you never know what to expect.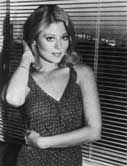 "On the first day of shooting we had a scene where I'm angry with him and slap him on the face. He grabs me and I fight him. We rehearsed it and broke for lunch, and he came up to me and said, 'Whatever happens, go on with the scene.' So when we shot the scene, instead of grabbing my arm, he started kissing me. Stacks and BJ kind of like each other, and it changed the whole scene!"
Judy has played quite a few fluffy blonde roles, but she doesn't feel typecast. "I love playing that kind of part," she says. "I think that acting is just extending another part of your personality. There's one part of me that's a silly girl, another part that's serious, one that's smart. If I establish mvself as an actress, then I'll be able to play serious parts."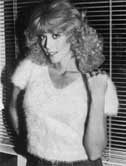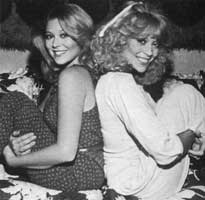 One project that the girls hoped to do has been sidetracked by their current TV roles a pilot they did together. "We play sisters who are extensions of our own personalities, only exaggerated," says Judy. "I play a medical student," states Audrey, who was a pre-med student, "and I play a stripper!" laughs Judy. "I dress really flashy, like Frederick's of Hollywood. I also do an act with a snake named Walter, and he lives with us in our apartment." Audrey chimes in, "I dress pretty but conservative, like in skirts and sweaters. And one of my dates thinks I've put my arm around him but it's Walter!"
Gossip couldn't resist asking if there was any sibling rivalry. "Definitely not!" they say in unison. "We're a team, and all our money goes into one pot anyway!" Judy laughs. "We don't care who gets the part as long as one of us does." Audrey says more seriously, "I think we've gotten much closer now that we're older, especially since we're living together away from home."
What's the best thing about being sisters? Judy says it: "I have a best friend close in age who I can always trust."
© 1980 Gossip Magazine