Idol Talk: Audrey Landers
There's more to her than meets the eye.
Interview by Sandra Zoccoli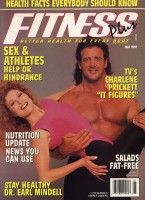 With four major projects currently in production, AUDREY LANDERS proves that keeping a hectic schedule is the key to a successful career.
As a recurring guest star on the daytime drama 'ONE LIFE TO LIVE,' Audrey portrays Charlotte Hesser, the stunning daughter of a major drug kingpin manipulating to take over the "family business." ln next season's NBC mini-series "LUCKY," Audrey was hand-picked by the author Jackie Collins to portray Marabelle Blue-a sixties superstar who will stop at nothing to stay on top.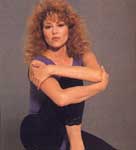 Audrey will also be hosting her own upcoming new series on "THE TRAVEL CHANNEL," while awaiting the release of her next motion picture "CALIFORNIA CASANOVA" with Jerry Orbach and Tyrone Power Jr. Last season, Audrey made numerous special guest star appearances on such hit series as "MACGYVER" and "MIDNIGHT CALLER." In addition, she starred in "GHOST WRITER," a television movie with Judy Landers and Jeff Conaway. Her recent theater credits include starring roles in "GYPSY" and "LEADER OF THE PACK."
Having portrayed Afton Cooper on the mega-hit international television series "DALLAS" for five years, Audrey was written back into the series after a three year absence for the 1989-90 season due to her tremendous popularity and much-missed presence. During the? past few years, Audrey has become a multi-platinum recording star throughout Europe. She can currently be heard on Warner Bros. Records in the U.S.A.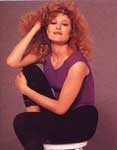 "Music is my first love," says Audrey, "That's where it all began." At twelve years of age she made her show business debut performing an original tune called "The Apple Don't Fall From the Tree" - a song which later had some country music success.
Audrey spent her teenage year's working on soap operas, such as "Somerset," where she played an aspiring singer. She also studies music at the Julliard School in New York, and earned a B.A. in psychology at Columbia University at the age of twenty. After graduation she moved to Los Angeles to continue her acting career. There she guest-starred on numerous popular series before landing the role on "DALLAS".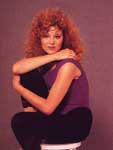 Once again, Audrey was able to integrate her music and acting careers. The "DALLAS" producers encouraged her singing and made it a part of the storyline allowing her to often perform her own songs. "Writing has always been an emotional outlet for me. I thrive on creativity."
The role of Val in the motion picture "A CHORUS LINE" was one of the greatest challenges in Audrey's life. She was personally selected by Sir Richard Attenborough after the cast had already been in rehearsal for several weeks. Never having claimed to be a proficient dancer, she became totally dedicated and spent endless hours of grueling workouts with the choreographer. Attenborough said "Audrey wore out two dance coaches. you could have dropped a bomb next to her, yet she never broke her concentration. She is an extremely focused young woman."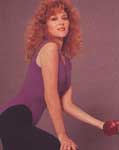 With thirteen gold records, two gold albums and a platinum album to her credit, Audrey Landers continues her extensive concert schedule in Europe throughout the year. With one of the busiest and most grueling show business schedules being kept these days, Audrey finds time (between air plane flights) to maintain homes on both coasts and keep a happy new marriage together with husband, Donald Berkowitz.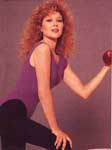 After photographing Audrey Landers for our cover, we spoke with her and learned some interesting information. Tune in.
FP: When did you get started in acting/modeling?
AL: I officially started at 12 years of age. It was in the local theater in upstate New York where I grew up. I had recorded a song I had written and was asked to sing it on the Merv Griffin Show. As a result, I soon after had a part in a soap opera called "The Secret Storm"
FP: When did your sister Judy follow into a similar career?
AL: Most of Judy's childhood was spent in gymnastics. Judy was a NYS Gymnastics Champ. At 17, she got a role in the show "Vegas."
FP: In the movie "Ghostwriter," you sing quite a bit of the soundtrack. Have you recorded any albums?
AL: This is a secret career in the U.S., but it's a tremendous career in Europe. In the last 6 years I spend about 6 months of each year touring. My albums are produced here in L.A. and I have 12 gold singles and 7 platinum albums. It's very exciting but exhausting!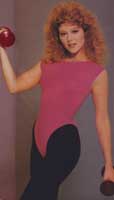 FP: You and Judy have done a few films together. Do you enjoy working together or alone?
AL: We love working together bur have only done 1 or 2 shows together. "Ghostwriter" was an exciting project for the whole family. Judy and l starred in it. and my mom produced it. We had such an overwhelming response to it that we're working on a sequel which should be debuting some time very soon. My mom's production company plans to pick it up as a series. We're all very happy about it.
FP: What T.V. plans/movie roles do you have for the coming year?
AL: Other than work on "Ghostwriter" (movie and series) I am working on a Christmas movie in which I not only star but I wrote and sung the album for it. I am also working on a movie which stars Jerry Orbach and myself titled "California Casanova."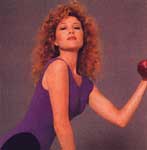 FP: What role does diet and exercise play in your life?
AL: I think diet is equally as important as exercise, if not more so. I lead a very healthy life. I eat natural foods. I don't drink alcohol and I never smoked. I combine this with moderate exercise. I never exercise to exhaustion. I pace myself. For my career it's important to be fit. Acting and singing is physically strenuous. It May look glamorous, but the hours are grueling. You need energy and stamina so you have to eat right. When doing films you have to be able to do some activities and stunts yourself. Being on tour is a workout in itself. Being fit is so, so important.
FP: When you're not working what kind of sports activities do you enjoy?
AL: I love hiking. When I plan vacations I try to fit hiking in. I also enjoy swimming and horseback riding.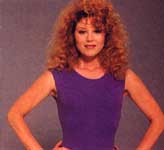 FP: With such a hectic work schedule, where do you spend most of your time? Where is home to you?
AL: I divide my time equally. I spend a great deal of time in L.A. My husband, however. lives on the East Coast! We have a bi-coastal marriage. Most of my family now lives in L.A.
FP: Is a family of your own in your future?
AL: Definitely! I love kids and we have been thinking about starting a family. but with a bi-coastal marriage it is almost impossible. I need to be in L.A. and my husband has his own business and can 't relocate. We'll work it out somehow!
© 1991 Fitness Plus magazine