The Legendary Audrey and Ruth Landers
From Hollywood to Sarasota
By Susan Short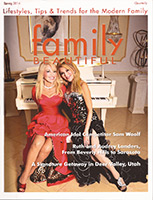 Interior, afternoon, stunning yet casual waterfront chic cafe, enter the beautiful and glamorous mother-daughter team of Ruth and Audrey Landers. Yes, it was a setting from a film or TV series, a sublime and elegant reality show, where the ladies have substance and true style. Thus, we began our fabulous luncheon.
I wondered, how did these two Hollywood greats happen to end up in Sarasota? The story is a true television classic; something that makes an intriguing tale. They've had concert tours around the world, from Europe to Africa to Asia, with Ruth co-producing, and Audrey composing Audrey's more than a dozen gold and platinum hit albums. In Hollywood, Ruth produced numerous successful independent films, such as Ghost Writer, California Casanova, and Club Fed, distributed by MGM and Paramount. Yet it was producing their award-winning musical, educational children's TV series, The Huggabug Club, that brought them to Sarasota. Executive produced by Ruth (she donated it to public television for 5 years) written by Audrey and Judy Landers, the show ran from 1995-2000 on PBS, and is still seen on many affiliate stations as well as VOD on iTunes.
The Landers flew with their families from LA to Tampa for 3 years to film the 50 half hour episodes filled with 250 original songs. The cast of children, their Moms, the director, choreographer, plus more crew filled up an entire plane and then some!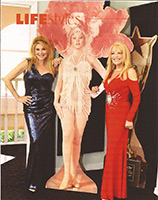 "As an offshoot of the TV series, we created the live version for stage; it was a rock concert for toddlers! Sarasota was the first stop on the tour," They were staying at the Hyatt and the doorman suggested they take a look at the area, but they were always busy with the show and their kids. Towards the end of the week, they were free, so he drove them to Siesta Key and the three ladies stood there with their feet in the sand and at that moment, they all decided to move to Sarasota. They were smitten! They sold 3 houses in Beverly Hills and bought 3 houses in Sarasota.
It was quite a change from Beverly Hills to Sarasota at that time. Audrey went on to say, "Back then, it was even hard to find a cappuccino!" Ruth says, "All of our friends in LA thought we were crazy to leave after 18 years in BH, but we couldn't be happier with that impulse decision, and this is home." And, all their European friends think it's paradise.
Of course, the idea was to "retire" from show biz in Sarasota, but that didn't last long. Ruth was inspired by the beauty of the area and the storied history of Sarasota. Thus came about the feature film, "Circus Island," produced by Ruth, co-written and directed by Audrey and Judy. It was a family adventure in more ways than one! "We hired a mostly local cast. At that time, finding experienced crew members was more challenging, and we had to hire from Miami and Orlando. Now that has changed." The film turned out great; they actually forged ground as one of the first local production companies to actually shoot a viable film in Sarasota.
An accomplished actor, singer, writer, composer and producer, Audrey is a dynamo with both brains and beauty.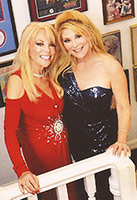 As a teen, Audrey studied music at the Juilliard School in New York, and studied psychology at Barnard/Columbia University, while landing professional acting roles. She literally grew up in front of the camera and on stage. She starred on daytime TV, followed by hundreds of guest roles in the 19BOs and 1990s. She has tested the water in the past with her semi controversial Playboy pictorial with her clothes on! She played the quintessential "T&A" role, portraying Val in "A Chorus line: The Movie." She's had a recurring role in USA Network's "Burn Notice." In 2012, the Florida Motion Picture & Television Association, Inc. voted unanimously to bestow its lifetime Achievement Award upon Audrey Landers. However, Audrey is best known for her memorable role as Afton for eight years on "Dallas." Presently, she is reprising her role in the new "Dallas" on TNT, stirring up trouble for a new generation of viewers.
As a dynamic business executive and entrepreneur, Ruth Landers continues to delve into arising opportunities. She is on the board of a printing company that she founded in New Jersey. She has thriving real estate companies based in Sarasota, FL, and a global fashion business. But the most visible impact Ruth Landers has made, has been her behind-the-scenes accomplishments in the film, music and television industry. In addition to her years as a producer in the entertainment industry, Ruth has managed and produced the celebrated careers of Audrey and Judy for over 30 years.
Keeping it all in the family tradition, now Audrey and Ruth are managing the career of the third generation in show biz. One of Audrey's sons, Daniel, has a burgeoning music career. At his young age he has already performed in TV specials and concerts in Austria, Germany, Switzerland, and in the Netherlands where Daniel was in the finals of Europe's X Factor. (Audrey's son, Adam is not involved in show biz. He studies Economics.)
Continuing their long-standing business partnership, the dynamic mother and daughter team also spearhead the landers STAR Collection. Ruth and Audrey co-created this women's clothing line, providing affordable glamorous fashion to women across the globe. Their fashion philosophy is, "Every woman is a star and she deserves to shine." It was launched in Munich on HSE, then was rolled out to Shop NBC in the U.S. and on QVC UK. Ruth and Audrey create the designs in a design studio in NYC, and appear on-air for the live presentations. It truly is affordable iconic style. The spring collection features the colors of nature, aqua, berries and lemon. "Holiday is our favorite season to design-I love the bling," said Ruth.
So what is this incredible team's next venture?
They are contacted all the time; they were offered to be the blond Kardashians! However, they have other ideas: They are considering a mock reality sitcom series that has a bit more sophistication, as well as producing additional TV projects in Sarasota/Bradenton area. They look forward to working with the many talented artists in our area, in the music scene as well. Who knows, it may just be what it takes to really put Sarasota on the map! Whatever it will be, it is sure to generate the same amazing spunk, swank and fun that the Landers family is known for and they are true Hollywood icons
© 2014 Family Beautiful magazine