Just the two of us
Starlet sisters on the move, Audrey and Judy Landers share a flat, interests and lifestyle
New mistress of Dallas master heel, J.R. Ewing, is blonde Audrey Landers in her role of Afton Cooper, Lucy Ewing's sister-in-law.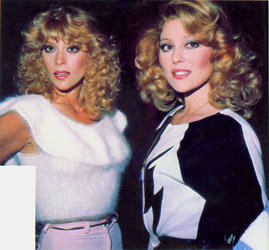 Audrey shares a one-bedroom aparttment in a nigh-rise block in Beverly, Hills, California, with her actress sister' Judy - Stacks in B.J. And The Bear .. Audrey, two years older than Judy, has' been acting since she was 13, and her first job was in The Secret Storm soap opera in which she appeared for a year. This was followed by four years on Somerset, another soapie, during which she also worked on a number of plays.

Audrey has guest-starred in many TV shows - Happy Days, Police Woman, F.B.I., Marcus Welby M.D., to name a few. She has also appeared in more than 100 national television commercials.
Audrey was born in Philadelphia, Pennsylvania, and later moved to Valley Cottage, New York. After high school, she was a student at Barnard College, Columbia University, and studied at Juilliard University, all the while appearring three days a week on Somerset.

Besides acting, Audrey also sings and writes songs. It's rumoured that on Dallas, J.R. will buy her a nightclub, which would give Audrey the opportunity to display her singing talents.

Sister Judy, a State gymnastics champ before she took up modelling then acting, starred in episodes of several TV series and regularly on Vega$.